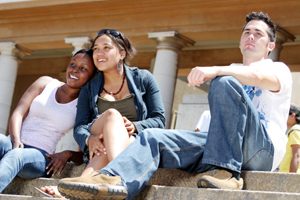 The first event in the Admissions Review Task Team's (ARTT) programme to consult the university community on the admissions policy, and especially the issue of race as a proxy for disadvantage, takes place next week.
The Great Debate, in Jameson Hall from 17h15 on Tuesday, April 28, kicks off a comprehensive programme hosted by the ARTT to get the entire campus talking about UCT's admissions policy.
It will include papers on the subject by UCT academics, the commissioning of a Vula website to receive written submissions from staff and students, and a series of constituency meetings in faculties, residences, administration departments and staff associations.
UCT's admissions policy acknowledges the university's obligation to address the legacy of racial discrimination. The policy recognises race as a broad indicator of past disadvantage, and all prospective students are asked to indicate their race. The most recent Admission Review in 2006 concluded that race is the best proxy for disadvantage but that the use of race as a proxy will become increasingly inappropriate as South African society continues to normalise.
The current admissions policy will be used for admissions in 2010.
According to the task team chair, Acting Deputy Vice-Chancellor Professor Crain Soudien, The Great Debate will draw together a diversity of intellectual positions on "how the university can provide redress for disadvantaged South Africans", and "race as a proxy for disadvantage".
Speakers at the debate will include Professor Neville Alexander, Professor David Benatar, Dr Zimitri Erasmus, Dr Tlhalo Raditlhalo, Dr Molapo Qhobela, and representatives from the South African Students' The Congress and the Democratic Alliance Students' Organisation. the Congress of the People and the Young Independent Democrats have not yet confirmed their participation.
Each speaker at the debate will be given 10 minutes to put forward their position on the issue before it is thrown open to the floor.
Soudien says the ARTT may also host a second event for student political formations represented on campus to present their positions on the issue of race as a proxy for disadvantage.
Notices on the university-wide consultative programme will be issued as the schedule of meetings is finalised.
The ARTT will also allocate time for individuals who may not be part of a formal constituency, and so may not have an opportunity to participate in the consultative programme, to make verbal submissions.
Position papers on the issues by UCT academics will shortly be available for downloading from the Vula 'Admissions Policy' website.
---
This work is licensed under a Creative Commons Attribution-NoDerivatives 4.0 International License.
Please view the republishing articles page for more information.
---