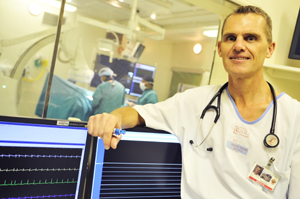 Long haul: This week, cardiologist Prof 'AO' Okreglicki tackles the gruelling seven-day, 243km Marathon des Sables in the Moroccan Sahara. Competitors carry everything except tents and water - on their backs.
The best training ultra-distance runner Professor Andrzej 'AO' Okreglicki gets is not on the tarmac, but under the glare of lights in the operating theatre.
As a cardiologist (he's a heart rhythm specialist), Okreglicki sometimes operates for eight hours straight, his powers of concentration stretched.
"It's like running the Comrades, except you stand in one spot," he jokes.
Much like surgery, running is a mind game, says the UCT alumnus and acting head of the Division of Cardiology.
In a 161km ultra-marathon, it's the agonising final kilometre that can undo you. The mind is where the race is finished.
Having signed up for the seven-day, 243km Marathon des Sables in the Moroccan Sahara from 29 March to 4 April, he's aware he'll need mental toughness.
Competitors will run the equivalent of almost six marathons in a week - and they're expected to complete 82km on the fourth day.
"This will be like running a full Comrades in the middle of nowhere," he quips. "You need to be reasonably fit."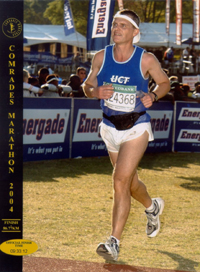 Okreglicki ran his first marathon in January 2002, following that with the Comrades in UCT Athletics Club colours. He now has seven Comrades under his belt. In 2006 he clocked up 2 000km in marathons, earning the club's Tarmac Award.
He has competed in the Kalahari, the Rocky Mountains, and the Swiss Alps.
Preparing to operate at Groote Schuur Hospital, he confesses he's more worried about the rest day when he'll lie in the communal tent, thinking of food.
In the Sahara, participants will run with everything but their daily water allowance on their backs: a mandatory space blanket, flare, mirror, compass, and a suction cup for snake bites, as well as food and clothing.
With a maximum allowance of 15kg, he's anxious about food.
After a thorough study of food labels, his staples include peanut butter, two-minute noodles (boiled up in a Coke tin using fuel pellets), nuts and raisins, full-cream powdered milk, cereal, soya mince, and instant puddings.
"I love dessert."
He's also more concerned about the cold nights - there's little room in the backpack for comfort clothing - than the 49ºC-in-the-shade days.
The heat forces him to slow down, to nurse his resources.
"Otherwise you boil over."
Winning is not what motivates him. Okreglicki is after the money, sponsorship that will increase awareness of life-threatening arrhythmic cardiac events.
He's participating in the Marathon des Sables as co-founder and president of PACE Africa (Prevent Arrhythmic Cardiac Events), aiming to boost their patient support fund and make people aware of the 'silent condition'.
There's also the lure of the Sahara.
"No computers. No calls. No-one can bleep me."
---
This work is licensed under a Creative Commons Attribution-NoDerivatives 4.0 International License.
Please view the republishing articles page for more information.
---