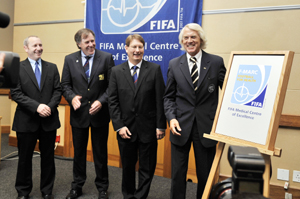 Playing ball: UCT's Assoc Prof Wayne Derman, Prof Tim Noakes and Prof Martin Schwellnus and FIFA's Prof Jiri Dvorak at the inauguration event.
The UCT/MRC Research Unit for Exercise Science and Sports Medicine (ESSM) and the Sports Science Institute of South Africa (SSISA) were officially inaugurated as a FIFA Medical Centre of Excellence at a function on 24 February.
The world football governing body selects institutions for accreditation based on clinical, educational and research expertise, practical involvement in the healthcare of teams and active commitment to preventing injuries. All centres must undergo a comprehensive application process based on exacting standards.
The centre is one of only two FIFA-accredited centres on the continent, and one of 10 across the world.
The inauguration ceremony was opened by Discovery Health Chair of ESSM Professor Tim Noakes, and attended by FIFA Chief medical officer Professor Jiri Dvorak, director of the centre Professor Martin Schwellnus, and SSISA managing director Morné du Plessis.
"FIFA is committed to improving standards of care in football worldwide, including injury prevention as a priority, complemented by accurate diagnosis, treatment and rehabilitation," said Dvorak. "They also educate and train the next generation of practitioners and scientists committed to football medicine."
"The relationship between UCT, the ESSM/SSISA and its medical service providers is a unique model that combines education with current research, applied through medical service practitioners," said Du Plessis.
Schwellnus highlighted the unit's achievements in research, education and clinical service, and said that these core activities would form the basis of the centre's future work in football.
By creating a worldwide network of accredited medical centres, FIFA aims to ensure that players and teams on all continents have somewhere to go for expert care in football medicine.
The Centre for Exercise Science and Sports Medicine at the University of the Witwatersrand in Johannesburg was the first FIFA Medical Centre of Excellence to be inaugurated in Africa.
---
This work is licensed under a Creative Commons Attribution-NoDerivatives 4.0 International License.
Please view the republishing articles page for more information.
---