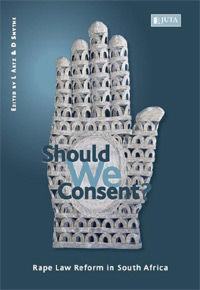 UCT's Dee Smythe and Dr Lillian Artz are the editors of an important new book Should We Consent?: Rape law reform in South Africa (Juta).
South Africa has one of the highest levels of reported rape in the world and legislative reform is seen as an essential step towards shifting the understanding of rape and its treatment within the criminal justice system.
Many of the book's authors were involved in substantive legal submissions, research and legislative drafting and the promotion of changes to the law.
Since 1996 activism has focused on the South African Law Reform Commission's investigation into sexual offences, and the parliamentary process, which culminated at the end of 2007 in the Criminal Law (Sexual Offences and Related Matters) Amendment Act.
The contributors draw on a body of empirical, social and legal scholarship, to produce a "unique text" charting critical social and legal debates and jurisprudential developments that took place during the rape law reform process.
The book also provides important insights into the engagement of civil society with law reform and includes thoughtful and contemporary discussions on topics such as defining rape, HIV, sexual offences against children and sentencing sexual offenders.
Artz is director of UCT's Gender Health and Justice Research Unit and Smythe is a senior legal researcher there.
---
This work is licensed under a Creative Commons Attribution-NoDerivatives 4.0 International License.
Please view the republishing articles page for more information.
---