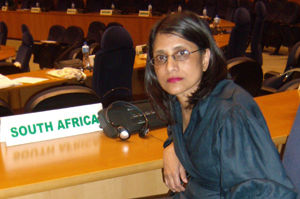 Finding a place: Fatima Khan at the AU's recent meeting on forced displacement in Africa.
The UCT Law Clinic's years-long work with refugees was fitting preparation for Fatima Khan when she attended a meeting called by the African Union's (AU) Division of Humanitarian Affairs, Refugees and Displaced Persons in Africa, held in Addis Ababa, Ethiopia, from 4-6 November.
Khan, director of the Refugee Rights Project at the clinic, was invited by the AU commission to participate at a Civil Society meeting, as well as at a gathering of experts, to discuss the theme, African Union Addressing the Challenge of Forced Displacement in Africa.
The meetings considered, in particular, the effective protection of victims of forced displacement; meeting the specific needs of displaced women and children; meeting the specific needs of victims of natural disasters; rebuilding affected communities; and forging partnerships in addressing forced displacement. The aim of the meetings was to develop durable strategies to deal with the plight of victims of forced displacement in Africa, for consideration by the relevant ministers and heads of state in April 2009.
Historically there may have been external factors responsible for the large-scale displacement of people in Africa, says Khan. More recently, however, it is the violations of and the denial of basic human rights by governments that have led to forced displacement of large numbers of vulnerable people on the continent.
Governments should first and foremost aim to respect such human rights as a preventative measure, she noted.
The recent xenophobic violence in South Africa was a timely reminder of this. Even experienced staff at the Law Clinic - who consulted with over 5 500 refugees and asylum seekers in 2007 alone - were horrified by victims' reports when they turned to the clinic for assistance.
"In reality, large numbers of people are displaced, and live either as refugees in host countries or as internally displaced in their own countries," says Khan. "Either way, the displaced people are and remain human beings with rights and should be treated with the dignity any human being deserves."
Khan was named as the May candidate for The Legal Newsmaker of the Year award, established by Legalbrief and the Law Society of South Africa.
---
This work is licensed under a Creative Commons Attribution-NoDerivatives 4.0 International License.
Please view the republishing articles page for more information.
---