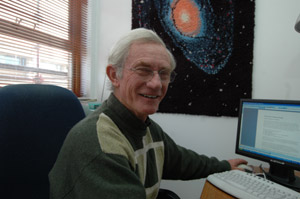 Professor Tony Fairall, who died in a tragic accident on Sunday, was due to retire this year after 38 years at UCT.
The Department of Astronomy has organised a public memorial service for the late Professor Tony Fairall. It will take place on Tuesday, 2 December 2008 at 14h00 in the Jameson Hall, Upper Campus and followed by a reception in the Molly Blackburn Foyer.
In lieu of flowers, the family would like to request donations for the Starwise fund which has been set in place by the family to distribute Professor Fairall's latest book to all high schools in South Africa.
More details of the fund can be found on its website.
One of the university's best-loved and most revered staff members, Professor Tony Fairall died during a diving expedition on 23 November.
He was due to retire at the end of this year after 38 years of outstanding service to the university in both teaching and research.
A National Research Foundation-rated researcher, Professor Fairall's research focus was on the spectroscopy of galaxies and large-scale structures of galaxies. He was well-known for the discovery of the galaxy Fairall-9, named in his honour.
An extremely popular and engaging teacher, his first-year astronomy course attracted thousands of students over the past three and a half decades and he also supervised numerous PhD students. He authored over 200 scientific papers and many popular astronomy books. His most recent book, Starwise - A Beginner's Guide to the Universe, was published a few weeks ago.
A major part of his life's work was to make astronomy accessible and understandable to the general public. During his time at UCT, Professor Fairall also served as the Cape Town Planetarium director of the Iziko Museums from 1988 until 2005.
Professor Fairall's extensive knowledge of his subject matter, combined with an exceptional ability to make astronomy easily understandable to the person on the street, meant that he was the face of astronomy in Cape Town and a sought-after public speaker.
It would be impossible to measure the positive impact Professor Fairall made to campus life, not only in academic terms, but in terms of the immense kindness, patience and respect which he displayed towards staff and students. He touched the lives of countless students, colleagues and friends with his inexhaustible enthusiasm and passion for astronomy and teaching. His legacy at UCT and at the Planetarium will live on.
He leaves his wife Alex, and his children Lara, Richard, David, Desmond and Elisabeth.
---
This work is licensed under a Creative Commons Attribution-NoDerivatives 4.0 International License.
Please view the republishing articles page for more information.
---