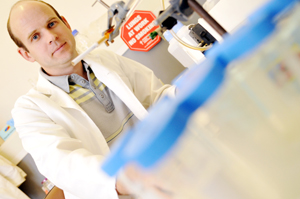 First prize: Dr Richard van Zyl-Smit won best PhD oral presentation at the recent Medical Research Council Research Day for his work on developing new rapid tests for diagnosing TB.
Pulmonologist Dr Richard van Zyl-Smit's oral presentation on new techniques to rapidly diagnose tuberculosis has won first prize at the annual South African Medical Research Council (MRC) Research Day.
The research day gave students from around the country the opportunity to present MRC-funded projects. Van Zyl-Smit's R20 000 prize will allow him to present his work, based on his PhD research, at an international conference.
Based in the Lung Infection and Immunity Unit in the Department of Medicine and the UCT Lung Institute, Van Zyl-Smit's main research examines the effect of tobacco smoking on the body's defence against TB.
During the initial phase of his PhD, while setting up smoking exposure protocols and methods, Van Zyl-Smit worked on several projects. One of these assesses new techniques to rapidly diagnose TB in patients who fail routine tests.
Under the supervision of Professor Keertan Dheda, several new tests are currently being evaluated.
The standard TB diagnostic technique is to identify the organism, carried in sputum, under a microscope, the same method employed since the 1900s.
"With HIV, a large number of patients either don't cough up sputum, or the sputum contains such a small number of organisms that they cannot be found using a microscope," Van Zyl-Smit explained. "TB also frequently occurs outside of the lung, making the diagnosis even more elusive."
Although the sputum samples or samples obtained from around the lung can be cultured for TB organisms, this is both costly and takes between six and eight weeks to diagnose.
"These delays affect the patients as they may get significantly sicker before the final diagnosis is reached. What we are doing is trying to diagnose TB within 24 hours, using alternative techniques to the microscope."
Other researchers at UCT and the Red Cross War Memorial Children's Hospital are investigating ways to rapidly diagnose drug-resistance in TB.
---
This work is licensed under a Creative Commons Attribution-NoDerivatives 4.0 International License.
Please view the republishing articles page for more information.
---