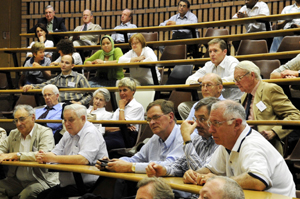 Law men and women: Graduates gathered at UCT to celebrate the 150th anniversary of the teaching of law in South Africa.
It was on 18 March 1859 that the first law lecture was delivered in South Africa, following Act 12 of 1858.
The need for legal education was so pressing that a start was made in 1857 by the South African College (the predecessor to UCT) by Professor of Classics, Mr (later Sir) Langham Dale, according to an article in Law Review 2008.
What followed was a systematic establishment of scientifically organised law teaching and the publication of comprehensive textbooks.
The Faculty of Law recently celebrated this 150th anniversary with a full programme of class reunions and guest speakers. The celebrations will continue over the next six months at functions abroad.
In his formal address to mark the anniversary, Dean of Law Professor Hugh Corder examined challenges facing South Africa's constitutional democracy and the role of the faculty.
"Almost 15 years into democracy, the framework is soundly in place - but the honeymoon is over. Some aspects work very well, but we need greater levels of accountability."
Corder said the judicial branch of government was a "striking example" of a branch of government that was functioning well.
"The judiciary has had an extraordinarily good record since 1994 of holding the legislative and executive levels of government to account."
The law faculty is also in good shape, he said, with excellent facilities, particularly its library. Its graduates are sought after around the globe. Students are drawn from over 20 countries, particularly the SADC countries, and 55% of students in the faculty are black.
Corder's address followed a lecture, Criminal Justice Revisited, by stalwart Professor Solly Leeman.
The programme was capped by the formal dinner at Smuts Hall on Saturday 18 October. The guest speaker was law alumnus and environmental activist Gordon Pugh (1994), whose address was titled From the North Pole to Capitol Hill.
In addition, the full extra-mural programme included cricket, a Table Mountain hike conducted by Associate Professor Anton Fagan, and a walking tour from Japonica Walk below the Summer House to upper campus, followed by a drive to Hiddingh Hall in the company of UCT historian Professor Howard Phillips.
---
This work is licensed under a Creative Commons Attribution-NoDerivatives 4.0 International License.
Please view the republishing articles page for more information.
---