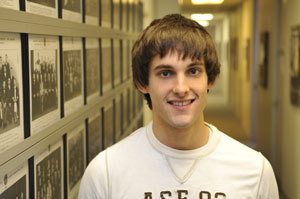 Chris Ryall is the new president of the Student Representative Council (SRC). In the background are photographs of former SRCs from years gone by.
Making the Student Representative Council (SRC) accountable, transparent and more accessible to students are some of the key focus areas of the newly elected members.
So says in-coming president Chris Ryall, after his 15-member team was constituted on 15 October.
Ryall noted that there is a big gap between student leaders and the ordinary students. "Students don't feel the impact of the SRC in their daily lives, and that gap needs to be narrowed," he said.
Ryall also said that the SRC needed to be open and honest, and strive to increase its performance. He believed that the new structure would be effective as it was representative of major student organisations, with seven of the elected members coming from the Democratic Alliance Student Organisation, five from the South African Student Congress, and three independent candidates.
Vice-Chancellor Dr Max Price said he was impressed by the increased participation levels in this year's electoral process. The poll increased from 36,88% last year to 42.37% this year, "the highest in recent years".
"In part, this is a reflection on the success of the outgoing SRC in stimulating student interest."
The rest of the team is made up of Amanda Ngwenya, vice president external, Shannon Bernhardt, vice-president internal, Portia Gama, secretary general, Sabelo Mcinziba, deputy secretary general, Dylan van Vuuren, chair of academics, Ahmad Bana, treasurer.
Co-ordinators are Mzwa Kweyama for transformation, Sara Reith for residence, Trevor McArthur for societies, Michelle Davy for sports, Anton Taylor for entertainment, Nevana Kostic for media and communications, Ayanda Dhladhla for day houses, and Babongile Mandela for health, safety and security.
---
This work is licensed under a Creative Commons Attribution-NoDerivatives 4.0 International License.
Please view the republishing articles page for more information.
---