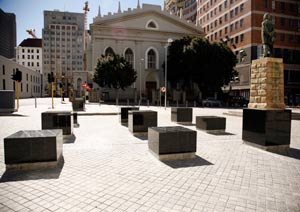 We remember: The Cape Town Slavery Memorial was unveiled by Helen Zille on Heritage Day.
Professor Gavin Younge from UCT's Michaelis School of Fine Art and Gauteng-based artist Wilma Cruise were the designers of the Cape Town Slavery Memorial on Church Square, which was unveiled on Heritage Day by Cape Town Mayor, Helen Zille.
The memorial comprises eleven 80-centimetres square granite blocks. Two are placed on a raised plinth on the south-west corner of Church Square, close to the Iziko Slave Lodge and a further nine are grouped in a tight grid close to the Slave Tree plaque.
Three are 30 centimetres high, four are 60 centimetres high, and four are 40 centimetres high. They represent our common humanity, and their different heights represent growth, and the importance we attach to the youth of South Africa, who also need to be able to read the texts engraved on the surface of the blocks.
Speaking at the unveiling, Zille said the memorial "is intended to draw attention to the under-acknowledged contribution that enslaved individuals made to the physical, cultural and economic development of Cape Town.
"Already, in the 18th century, there were more slaves than colonists in the Cape Colony, and these people became the economic backbone of this region. The people that were transported here, or captured in the Cape... have given rise to one of the most diverse communities anywhere in the world."
Younge and Cruise were chosen out of 13 nation-wide submissions to erect the monument.
---
This work is licensed under a Creative Commons Attribution-NoDerivatives 4.0 International License.
Please view the republishing articles page for more information.
---