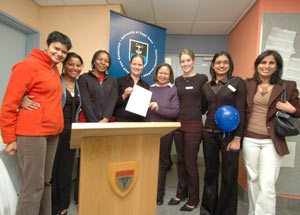 Champions: First prize winners of the Faculty of Health Sciences Undergraduate Research Day. (From left) Shajila Singh, Leilani Gallant, Deborah Maako, Celeste Levenson, Kirsten Mcleod, deputy dean of Health Sciences,Gonda Peres, Karen Ballieu, Husmita Ratanjee and Ass Prof Harsha Kathard.
Undergraduate students at the Faculty of Health Sciences tested their research capabilities when they presented their work at the faculty's Undergraduate Research Day on 10 October.
About 41 students in 12 groups took part in an afternoon filled with information and fun, and a lot more could not be accommodated because of time.
The first prize of R4 000 was won by a group from the School of Health and Rehabilitation Sciences with their work on identifying a hearing screening protocol for school-aged children in the Western Cape. The group was made up of Karen Baillieu, Leilani Gallant, Celeste Leveson, Deborah Maako, Kirsten McLeod and Husmita Ratanjee.
Altaaf Parker, Bhavesh Nagar and Grant Thomas, fifth-year students in MBChB, pocketed R3 000 for their second-placed presentation, a patient knowledge and the determinants of hypertensive control and development of hypertensive target organ damage at primary health care level.
The R2 000 third prize went to Catherine Dold and Keletso Tsebe, second-year MBChB students, who spoke on the reliability of visual field analysis in diagnosing and managing glaucoma in Groote Schuur Hospital.
Professor Marian Jacobs, dean of the faculty, said the faculty management was deeply impressed by the scope of their presentations. "Health sciences is leading the pack," she said.
Jacobs said it was necessary for students to share information with their peers through publications or conferences, but warned them not to let other researchers take their work away.
---
This work is licensed under a Creative Commons Attribution-NoDerivatives 4.0 International License.
Please view the republishing articles page for more information.
---