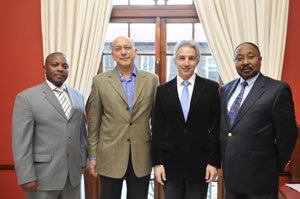 Finance Minister, Trevor Manuel, delivered the 9th Annual Steve Biko Memorial Lecture on 11 September 2008 in the Jameson Hall. In the picture are from left: Nkosinathi Biko, Trevor Manuel, Dr Max Price and Prof Thandabantu Nhlapo.
Finance Minister Trevor Manuel called for "more people's power" at the Ninth Annual Steve Biko Memorial Lecture at UCT on 11 September.
Citing Steve Biko's activism and community involvement as a student and beyond, Manuel argued that an energised democracy requires the passionate involvement of the people, and called for the return of activists who would mobilise their communities to solve their problems.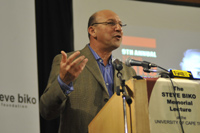 "Government often makes the call that crime cannot be beaten without a solid partnership with communities," he said. There is clear evidence that the development of trust between police and the communities is a critical element of an effective strategy to reduce crime.
"Where have all the activists gone? What do the young people who are politically astute and socially aware do these days? Who is doing the mobilising? Who are the catalysts for social transformation?"
Manuel also included local businesses in his call for involvement, noting that although businesses have the right to generate profits, they also have responsibilities to the communities they serve.
"We need elites that plough back, not plunder," he said. "We also need a private sector that recognises that the present concentration of the economy is not necessarily good for growth and long-term development. We expect businesses to take tougher measures to curb anti-competitive practices and to think consciously of tomorrow, not just today."
Download the podcast and full text of the lecture.
---
This work is licensed under a Creative Commons Attribution-NoDerivatives 4.0 International License.
Please view the republishing articles page for more information.
---