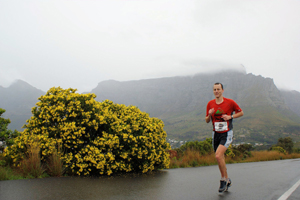 Record trail: Will Robinson climbing up to Llandudno Corner in his record-beating run in the Men's Health Hout Bay Trail Challenge.
Call William Robinson the King of the Long Haul.
After a record-dashing win in the Men's Health Hout Bay Trail Challenge in July, Robinson took top honours in the no-frills Salomon Puffer - no prize money and no fame, promise organisers - in late August. This is the second win in three years in the 80km, Cape Point-to-Waterfront race for Robinson, who finished in 07:38:06, a goodly 35 minutes ahead of second-placed Olivia Read.
And it was tough going on the day, with only 11 runners crossing Table Mountain before marshals decided that conditions "on top" had become too icy for them to remain at their post and racers were re-routed. It's been a change of pace for Robinson this year, who's cut down on his cycling to concentrate on trail running. After six wins in significant Western Province races, he figured he'd gone as far as he could on two wheels.
"Maintaining my form became unsustainable," says Robinson, a doctoral student in the Department of Mathematics and Applied Mathematics. "I could no longer afford either the money or the time while trying to progress academically. Peak training for elite riders is typically more than 20 hours a week."
So now, cycling is limited to commuting, and a monthly Sunday morning coffee ride (when the sun is shining).
But trail running, demanding speed, endurance, skill, strength, tactics and experience, may just be Robinson's cup of tea, especially since he finds that optimal running fitness is attained with around a third of the weekly training volume of cycling.
"With my attributes, I can challenge both myself and the top athletes in the discipline."
And that's not big talk. Robinson's results in his past two races put him on par with some of the best trail running performances since the first races were held here in the mid '90s.
And even if he didn't bag a purse at Puffer, there are other rewards, says Robinson.
"A bonus is that many trail races go through beautiful and sometimes remote areas which I would not normally think of exploring."
---
This work is licensed under a Creative Commons Attribution-NoDerivatives 4.0 International License.
Please view the republishing articles page for more information.
---