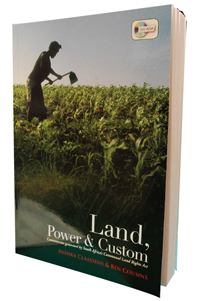 UCT Press is staging a renaissance. After years keeping a low profile, three books have recently been released bearing its mark, with at least four more due out over the next few months. Here Digby Sales, Collection Development and Acquisitions Manager at UCT Libraries, paints the backdrop to this second wind.
During the 1980s there was discussion in various university forums about the need for an outlet for scholarly publishing by UCT academics from within the university.
In 1994, UCT Press was started by Professor Martin Hall, then chair of the Centre of African Studies (CAS) Board, and it was managed from the CAS by Rose Meny-Gibert. The board was chaired by Brian Warner, a professor in the Department of Astronomy, and it was made up of a cross-section of academics.
It was not envisioned as a conventional university press, but was expected, rather, to use the opportunity afforded by new electronic technology to produce small runs by printing on demand.
The Press moved to the Old Medical School Building on the Hiddingh Hall campus in 1996. However, it was already clear that investment was required to allow the Press to build a backlist in order to sustain itself. This funding was not forthcoming from the university, so the publishers Juta and Company bought two thirds of the shares in the Press, took over the existing debt, and paid rent to UCT for the Hiddingh Hall premises.
In 1996 Rose Meny-Gibert was joined by Glenda Younge. The Press then consisted of two staff members and was publishing 15 to 20 books per annum.
The sales, marketing and warehousing were outsourced to a company called Book Promotions. Despite some excellent titles, the Press, like most other university presses in South Africa, continued to run at a loss.
In 1998 Juta bought 100% of the Press from UCT, and to maximise economies of scale, moved the UCT Press offices to their premises in Wetton, and took over the sales, marketing and warehousing of books published by the Press. UCT Press then became an imprint of Juta and Company.
Throughout this period the editorial board continued to meet quarterly, and books were being published under the UCT Press imprint. In the early 2000s there was a specific focus on psychology books, many of them textbooks, which generally proved profitable. However, after a restructuring at Juta in 2004, the editorial board did not meet again, and there was very little published under the UCT Press imprint until 2007.
At the beginning of 2007, the Deputy Vice-Chancellor in charge of research, Professor Cheryl de la Rey, re-constituted the editorial board, chaired by Digby Sales of UCT Libraries, with representatives from each faculty. The re-launched Press is intended to operate like other traditional university presses, publishing peer-reviewed books written by a wide range of authors from UCT as well as other academic institutions, from Southern Africa and abroad. A representative from the UCT Press attends the Frankfurt and London Book Fairs, to buy and sell rights.
UCT Press now has a number of publishing partners abroad.
The editorial board has set out its guidelines for submission and has a web presence. Recent titles published by the Press are Cape Landscapes: Sir John Herschel's Sketches 1834-1838 by Professor Brian Warner; From Boys to Men: Social Constructions of Masculinity in Contemporary Society, edited by Tamara Shefer et al; The Emerging Researcher by Professor John de Gruchy and Dr Lynne Holness; and Consolidating Developmental Local Government by Mirjam van Donk et al. Imagining the Elephant by Professor Kit Vaughan was the first of seven books due for publication within the next six months.
It is hoped that members of the UCT community looking for publication of an academic monograph will contact either Digby Sales or Sandy Shepherd.
---
This work is licensed under a Creative Commons Attribution-NoDerivatives 4.0 International License.
Please view the republishing articles page for more information.
---