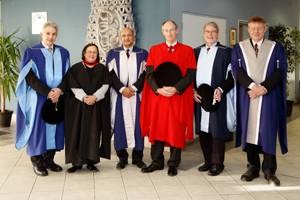 Steadfast developments: Prof Alastair Millar (in red) of the Division of Paediatric Surgery delivered his inaugural lecture on 27 August. Also in picture are (from left): VC Dr Max Price; Prof Marian Jacobs, dean of the Faculty of Health Sciences; DVCs Prof Daya Reddy and DVC Prof Danie Visser; and Emeritus Prof Heinz Rode.
South Africa is a dangerous country for children.
"After the age of one year, trauma becomes the major cause of death in children," Professor Alastair Millar said in his inaugural lecture, Surgery for Children: In search of perfection.
Millar is the Charles FM Saint Professor of Surgery in the School of Child and Adolescent Health, and based at the Red Cross War Memorial Children's Hospital.
In a world where 85% of children need surgical intervention before the age of 16, technological advances in minimally invasive surgery (MIS) has become of paramount importance.
Millar said there were plans to establish a R10-million Minimally Invasive Skills centre at the hospital, which would "compare with the best in the world".
"It will be a training resource for the continent and beyond, and a major sponsor has come on board.
"It is now estimated that with appropriate and minimally invasive surgery up to 60% of all general paediatric surgical operations can be carried out in this way.
"This is the concept of fast-track surgery where the in-hospital stay is kept to a minimum. We at the Red Cross Hospital are moving steadfastly in this direction."
Lauding the pioneers of paediatric medicine and surgery in South Africa, Millar also praised the hospital's trauma unit, which treats 10 000 patients a year.
Burn injuries topped the list of preventable accidents, requiring "enormous efforts" of intensive resuscitation, and surgical and rehabilitative care.
"We see 1 200 new burn cases annually.
"The gold standard of care is one day in hospital for every percentage of body surface area burned. [Emeritus Professor] Heinz Rode has taken this standard of care to another level and reduced this to 0.7 days ... a magnificent achievement in our resource-limited environment."
---
This work is licensed under a Creative Commons Attribution-NoDerivatives 4.0 International License.
Please view the republishing articles page for more information.
---