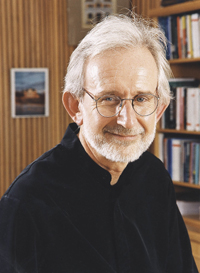 I've been in senior leadership positions at UCT for nine years, first as the founding Dean of Higher Education Development, and then as Deputy Vice-Chancellor.
I see this as single set of challenges, centred around improving access, success and the quality of teaching and learning through my work with colleagues in CHED, and expanding into further areas of transformation as a DVC, with responsibility over the past few years for pushing for transformation in our staff profile, widening opportunities for staff, and tackling the challenges of transforming institutional culture.
I've benefited from the opportunity of working in a team with extraordinary and talented people: administrative and professional staff, teachers and researchers.
Through working closely with foundations and donors in the US and the UK, I've been able to bring in significant funding for a range of projects in this area.
I led the process leading to our first institutional audit by the HEQC and to the subsequent University Quality Improvement Plan, which is UCT's ongoing set of benchmarks for tracking our improvement as a transforming institution.
A special interest has been HIV/AIDS as an aspect of transformation, tackling the stigma which still marginalises those in the UCT community living with HIV and AIDS.
A second major strand over the past years has been the leadership of the planning and budgeting process, where I've worked closely with the Institutional Planning Department and the Finance Department. Professor Enrico Uliana and I inherited a spiralling deficit which was a major threat to the university.
We have succeeded in putting in place robust and sound planning and budgeting processes which have stabilised the university's finances, resulting in annual breakeven or small operating surpluses.
We have been able to put money back into key capital and infrastructure projects that will see, over the coming months, major building on our campuses for the first time in 20 years. I also led the supaTsela project, which has invested R78m into renewed IT infrastructure.
As with transformation, these challenges will continue, particularly in balancing the consequences of escalating inflation against the need to keep student fee increases low so as not to limit access.
But the university has a firm financial foundation from which to tackle these challenges. This work has been linked to the university's major objectives through the work of the Institutional Planning Department.
Particularly important has been the emerging focus on social responsiveness, and the successive annual Social Responsiveness Reports that show how we contribute to major imperatives as a public higher education institution.
The third area of focus has been physical planning and infrastructure development. We now have a comprehensive physical plan for the Rondebosch campus, and a re-branded Jammie Shuttle that has over 40 000 rides each day in term time.
One of my last tasks in office has been to coordinate the writing and approval of our Green Campus policy framework, which focuses on waste recycling, water conservation and reduction of carbon emissions.
I think we will see this emerging as a major focus at UCT over the coming years, and the Jammie Shuttle provides the basis for a comprehensive and appropriate staff and student transport system that, in a few years' time, will be an indispensable alternative to private car use.
I've always believed that it's important to keep connected with the core intellectual life of the university, and I've taught throughout my terms as a Dean and a DVC.
My PhD students are a source of inspiration and intellectual renewal. For the past three years I've taught an MBA elective, and supervised MBA dissertations, in the area of emerging enterprises and innovation.
Moving full time to the GSB will allow me to develop this focus further, and as part of work I've begun doing with colleagues in Canada and at the United Nations Development Programme on inclusive market development.
I will also be working with the GSB's Centre for Leadership and Public Values in the area of transformative leadership, looking at what we have learned from the Khuluma programme and how these sorts of interventions can be connected with institution-level strategies for change.
---
This work is licensed under a Creative Commons Attribution-NoDerivatives 4.0 International License.
Please view the republishing articles page for more information.
---