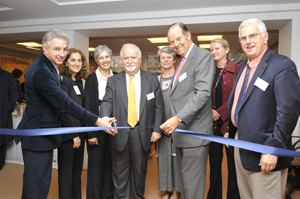 Opening the doors: Cutting the ribbon at the opening of the new Research Commons were VC Dr Max Price, Deana Arsenian (Carnegie), Rookaya Bawa (Carnegie), Carnegie president Dr Vartan Gregorian, Joan Rapp (executive director of UCT Libraries), Thomas Kean (Carnegie), Pat Busby (UCT Libraries) and Professor Bruce Albert (Carnegie).
UCT's research endeavour has a strong new ally in the form of the new Research Commons, a resource for senior postgraduate students, emerging researchers and academic staff, launched last week.
The new facility is a first for Africa, the result of a partnership between the university and long-time supporter, the Carnegie Corporation of New York.
The Research Commons is housed in the Chancellor Oppenheimer Library, overlooking the chemical engineering building.
The elegant facility is a cocoon of support, providing advanced technology, additional bandwidth and experienced librarians, trained to assist researchers with their in-depth subject specialisations.
The facility was three years in the making and is one of three similar library developments supported by Carnegie. The other two Research Commons facilities are at the Universities of the Witwatersrand and KwaZulu-Natal.
"Sophisticated software will make searching seamless, refining searches based on the context of the researcher's work," executive director of UCT Libraries, Joan Rapp, said at the launch.
For Rapp, the most exciting facet of the project is the development of a cadre of librarians who can focus on research. Six interns from each of the three participating libraries have been especially trained, and two from each of the partner institutions did internships at leading US universities, part of the project's staff development component.
Opening the facility, president of the Carnegie Corporation of New York, Vartan Gregorian, underlined the corporation's commitment to higher education in Africa.
Against the backdrop of developmental and health challenges, he said higher education should not be seen as a luxury. Libraries, especially, were the key to broader knowledge access.
"Higher education can provide leadership for Africa."
He added: "No matter what form they take, libraries have become indispensable to the advancement of South Africa's people and to the development of their democracy."
Vice-Chancellor Dr Max Price paid tribute to the corporation, thanking them for their long-standing support and partnership.
"Africa will need excellent leaders and professionals. It's important not to let investment in our universities decline."
---
This work is licensed under a Creative Commons Attribution-NoDerivatives 4.0 International License.
Please view the republishing articles page for more information.
---