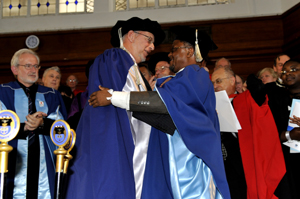 Outstanding contribution: DVC Prof Martin West (left) receives the Vice- Chancellor's Medal for his services to UCT, at the graduation ceremony on 13 June.
Presiding at his final graduation ceremony on 13 June, Vice-Chancellor Professor Njabulo S Ndebele, conferred the prestigious Vice-Chancellor's Medal on Professor Martin West. This is the citation
Professor West achieved his undergraduate and postgraduate degrees at the University of Cape Town. His doctorate was in social anthropology on African Independent Churches in Soweto.
He started lecturing in 1971 in the Department of Social Anthropology and became a full professor in 1978. He was appointed head of department in the same year, and deputy dean in the Faculty of Social Science and Humanities in 1989. It has been 17 years since he became a deputy vice-chancellor in 1991, and by the end of this year he will have had the distinction of having served the administration of four vice-chancellors.
I wish to use this opportunity to recognise his immense contribution to UCT. He has been a servant of UCT for the duration of his career, during which he has played many roles, each with equal distinction.
As an academic he led his department and contributed to his discipline; as a teacher he touched the lives of many students; as a deputy vice-chancellor he drove many strategic initiatives and provided strong leadership to senior staff. As the Deputy Principal, he has often provided the Wisdom of Solomon on complex issues in difficult times.
In order to convey something of the impact that Professor Martin West has had on his colleagues, I will share some of their impressions. Several Deans and members of the executive have commented on his vast knowledge of university matters and his ability to tap on that experience to provide sound advice and guidance. They comment on his excellent skills as chairperson as he is almost always able to obtain consensus and team work. He is able to achieve this impact through a combination of firmness, understanding, incisive summation, and the sense of being supportive.
He has served on numerous committees, certainly far too many to name. However, there is one that needs special mention because of its strategic importance and is indicative of the kind of contribution that Professor West has made and the quality of his legacy.
As chair of the Management Committee of what has been judged as one of the most successful higher education collaborations in Africa, the Universities Science, Humanities, and Engineering Partnerships in Africa (USHEPiA) which brings the Universities of Nairobi, Jomo Kenyata University of Science and Agriculture, Botswana, Zimbabwe, Dar es Salaam, Zambia, and UCT in a unique staff development programme, he has epitomised what UCT strives for in its Mission Statement. He is highly respected by colleagues at these partner institutions in Africa.
For his many contributions, which have fundamentally enabled a host of successes by the university, I am pleased to award the Vice-Chancellor's Medal to Martin West.
---
This work is licensed under a Creative Commons Attribution-NoDerivatives 4.0 International License.
Please view the republishing articles page for more information.
---