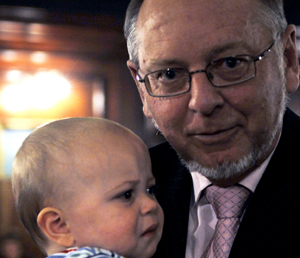 New generation: Alexander Walter in grand company with his grandfather, Prof Martin West.
A farewell dinner was hosted for Professor Martin West on 13 June. It was a gathering of many friends and colleagues who recalled special times.
Martin West was born in Cape Town on 18 July, 1946, on the same day - but not the same year -as that other great South African, Nelson Mandela.
He matriculated first-class from Bishops in 1963 and graduated (BA) in 1966. A BA honours in social anthropology followed in 1967, and an MA in 1969 (with distinction).
In 1972 his PhD was awarded in social anthropology, his thesis title African Independent Churches in Soweto.
The year before graduating, he started lecturing at UCT, going on to become a senior lecturer after an ad hominem promotion in 1976.
Youngest chair at UCT
In 1978 and at only 30 years of age, he was appointed Professor of Social Anthropology and awarded the Chair of Social Anthropology, previously held by Monica Wilson. He was the youngest academic ever to hold a chair.
He and Val West and their children, Paula and Adam, had just returned from the US where Martin had been teaching and researching at the University of California, Berkeley, during sabbatical leave.
From 1980 to 1983 he served as director of the Centre for African Studies and in the 1980s he was president and vice-president of the UCT Staff Association. Between 1989 and 1991 he served as deputy dean of the Faculty of Social Sciences and Humanities.
Married to many things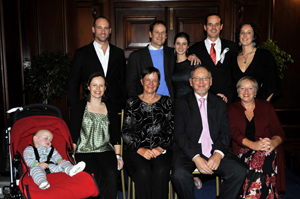 Family ties: (From left, back) Greg Eden, Peter and Andrea Rassell, Adam West and his wife, Shela Patrickson. (From left, front), Paula Walter, Val and Martin West, and Cathy Eden. (Having had his fill of soporific goings on, young Alexander snoozes in his pram.)
A social anthropologist, Martin was always devotee of a particular cultural practice, a peculiar kind of polygamy: the art of being married to many things at once.
As a deputy vice-chancellor, he had a particularly close marriage to the student affairs portfolio.
There is euphemistic line in a letter dated 4 September, 1994, from the Vice-Chancellor to heads of departments on the subject of executive management responsibilities. It goes something like this: "Professor West will deal with complaints from students as the Vice-Chancellor's nominee in terms of the rules on Proper Channels for Student Complaints."
In 2003, when Martin relinquished the student affairs portfolio after 11 years, probably with palpable relief, student leaders gathered in the Baxter Theatre Centre to pay tribute to his contribution to student affairs.
It was fitting that the Baxter hosted this function. West has been an avid supporter of the performing arts.
Asked what he'd miss most, he replied tersely: "Long hours of negotiations"!
But for him there were two major highlights of this tenure: the transformation of the student body and the residences, and the shift from an essentially protest student politics to a system of co-operative governance.
International affairs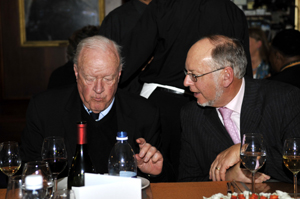 Former Vice-Chancellor Dr Stuart Saunders (left), in conversation with Prof Martin West.
On the international front, Martin was responsible for other coups. As the country moved towards democracy in the early 1990s, UCT began re-integrating into the academic international community.
He was at the vanguard, founding the University Science, Humanities and Engineering Partnerships in African (USHEPiA) in 1995.
With customary vision, Martin knew it would be essential to have an office devoted to international links. And so the International Academic programmes Office was born in 1996.
He also established REMO, the Recruitment and Enrolment Management Office.
Headhunter supreme
On the human resources side, Martin headhunted some impressive talent. He was particularly proud of his recruitment of Joan Rapp to head the libraries, then undergoing a watershed transformation as the electronic age kicked in.
As part of a commitment to resources, he also stabilised CALICO, the Cape Library Consortium, providing reciprocal access and borrowing agreements between the province's tertiary institutions.
As DVC, he was also responsible for IT developments, notably responsibility for PRISM and SAP/R 3 and the ISIS Project (PeopleSoft).
Sport on the campus greens
But Martin's 'all-roundedness' includes sport. His prowess on the pitch and green are perhaps lesser known, though he counts among them "some quirky sports achievements, like a hat-trick in a [cricket] game against maintenance".
Perhaps not as prolific a wickettaker as Shane Warne, Martin played cricket for the UCT staff team for over 20 years, with everyone from campus janitors to JM Coetzee and a vice-chancellor.
His former PhD student, Assoc Prof Mugsy Speigel, recalls Martin's "unstoppable enthusiasm for discussing the micro details of the UCT staff cricket club: its joys and (more often) its woes on the field, and off".
He also played golf on Sundays with UCT staff for many years, even succeeding in scoring a hole-in-one at the sixth hole.
Dextrous pianist and irreverent lyricist
Greetings: Prof Martin West (right) with Assoc Prof Brad Liebl from the South African College of Music.
Martin has also contributed to the cultural tapestry of UCT as a pianist and lyricist for a short-lived faculty band.
Archival material doesn't explain why it was short-lived. The drummer, Mugsy Spiegel, tells us: "At departmental parties he was known for his musical skills on the piano and his series of carefully constructed spoof lyrics that ridiculed apartheid's Bantustans and all they stood for, all set to the tunes of old favourites."
For example, the West version of Chatanooga Choo Choo began: "'Pardon me, boy, is this the real Basotho Qwaqwa? Oh yes, my baas, you've got the right rural plaas .... "
We also hear that Martin played dexterously but "without much concern for tempo".
---
This work is licensed under a Creative Commons Attribution-NoDerivatives 4.0 International License.
Please view the republishing articles page for more information.
---