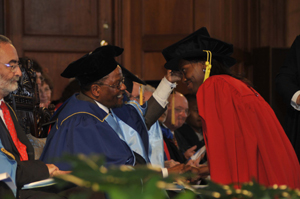 So long: Vice-Chancellor and Principal Prof Njabulo S Ndebele presided over his last graduation ceremony in the Jameson Hall on Friday, 13 June. He joined UCT in July 2000 and served two terms of office. He is succeeded by Dr Max Price.
Writing in his final report, Prof Ndebele said: "I am intensely proud to have been at the helm of this institution in a time of considerable change and adaptation during South Africa's first decade of democracy.
"When I arrived in 2000, my dream was to shape UCT's path by promoting an environment where individuals would be empowered to give of their best.
"This includes our students, whose youth and energy continuously invigorate our university, as well as our teachers and researchers, whose quest for excellence has contributed to UCT's growing profile."
Prof Ndebele included those committed individuals in the professional, administrative, support and service departments, as well those serving on Council, Senate and the Institutional Forum.
"Our successes can also be proudly claimed by all those who have donated to this institution, in time and other ways. This includes government, through public money, as well as many organisations, corporations and individual philanthropists."
He also praised UCT's alumni whose skill and expertise contributes to society on a daily basis and who serve as "great ambassadors" for their alma mater.
"All have contributed to an institution that is able to continually renew itself by facing new challenges head-on, adapting to rapid change and, most importantly, securing excellence - thereby answering the call to advance knowledge for the benefit of all.
"It has been a privilege to serve the university alongside such gifted and committed individuals."
Bidding adieu to the Vice-Chancellor at the PASS Forum on 12 June, Senior Deputy Vice-Chancellor Professor Martin West used an anecdote that described his boss succinctly.
Prof Ndebele, he said, faced even the most cataclysmic event with calm, his most emotive exclamation being, "Oh, man!"
"We thank him for the space he's given us to work and for his care and thoughtfulness," West added. "Prof Ndebele, your mark has been made and we appreciate it well."
In turn, Prof Ndebele said the efforts of the professional and administrative staff had underpinned the university's academic endeavours and helped to nudge UCT into the world's top 200 university rankings last year.
The PASS Forum farewell was one of many hosted by various university constituencies over the past weeks (see pages 2 and 3), all bearing testimony to a much-loved and wellrespected leader.
An author and academic, Prof Ndebele joined UCT from the Ford Foundation eight years ago, succeeding Dr Mamphela Ramphele, who took up a position at the World Bank.
At the time, Prof Ndebele was resident scholar at the Ford Foundation's headquarters in New York. He joined the Foundation in September 1998 after a five-year term of office as Vice-Chancellor and Principal of the University of the North in Sovenga, Northern Province.
He is also a former Vice-Rector of the University of the Western Cape. Earlier positions include chair of the Department of African Literature at the University of the Witwatersrand, and Pro Vice-Chancellor, dean, and head of the English department at the National University of Lesotho.
Prof Ndebele will spend the next 12 months on sabbatical at Bard College a small liberal arts university, north of New York, where he will work on "getting my writing voice back".
Our best wishes go with him for this new chapter.
---
This work is licensed under a Creative Commons Attribution-NoDerivatives 4.0 International License.
Please view the republishing articles page for more information.
---