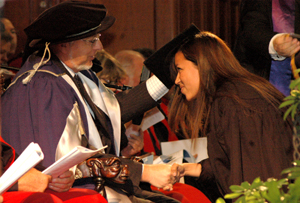 Both sides: Prof Martin West has attended graduation ceremonies since 1966, first as a student, then as a staff member, and finally officiating as a DVC, a post he took in 1991. The June ceremonies will be his last in this capacity as he retires at the end of the year. Here he caps a student at the December 2007 ceremonies.
One of the more vivid graduation incidents Deputy Vice-Chancellor Professor Martin West recalls involves a pet rat.
Due to officiate at his last graduation ceremony on Friday 13 June (yes, it's fittingly auspicious), West has viewed grad from both sides of the podium. (Professor Njabulo S Ndebele also officiates at his final ceremonies as vice-chancellor and principal this week.)
West's first sniff of grad pomp and ceremony was his own graduation (BA) in 1966, some 42 years ago.
Three more trips to the podium followed: BA Honours in 1967, a master's degree in 1969, and a PhD in 1972.
Graduations also became family events. In 1966 his wife, Val, also graduated (BA), though there were no coy glances across Jameson Hall. They hadn't yet met. But by 1969, when West received his master's degree, they were, as they say, an item.
And when Val received her LLB in the mid-1980s, West, then a lecturer in social anthropology at UCT, made sure he was on the podium to cap his wife.
He did the same for their children, Paula (BSc) and Adam, who had three UCT graduations, BSc, BSc Honours and MSc.
"The unique thing is that I capped him and hooded him for his master's degree."
West has been officiating at grad since 1991, the year he became a DVC, and has done almost 100 ceremonies. He has witnessed a startling metamorphosis.
'There were hardly any students of colour back in 1966. We've had a huge demographic change and it's wonderful to see the graduation classes today."
There's also a greater sense of diversity and participation. Mothers ululate, and classes of students give standing ovations when their favourite teachers receive Distinguished Teacher Awards. And there's more parental involvement. One exuberant father stood on his chair, shouting "That's my boy!" as his son was capped.
"Though grad has retained its structure, the diversity and liveliness of it - and internationalisation - reflects an extraordinary transformation," West endorses. "We didn't sing the national anthem in the past. Now we do."
Oh, the rat incident. At one grad, seconds before the incumbent Vice-Chancellor, Dr Mamphela Ramphele, was due to cap a woman student, West was able to warn her that things were not as they seemed.
The student was notorious in the humanities faculty for carrying a pet rat with her. As she stepped up to the podium, West remembered this and quickly warned Ramphele.
As she capped the student, the rat popped out from under the student's gown, onto her shoulder, determined to share the moment of glory.
It might have floored anyone without prior knowledge.
Then there was the over-excited student who handed the Vice-Chancellor a lollipop.
Sadly, there have also been occasions when West has awarded degrees posthumously. The ceremonies that have moved him most have been those involving students who had clearly overcome enormous challenges, such as blindness, to graduate.
Beyond tragedy lies triumph.
---
This work is licensed under a Creative Commons Attribution-NoDerivatives 4.0 International License.
Please view the republishing articles page for more information.
---