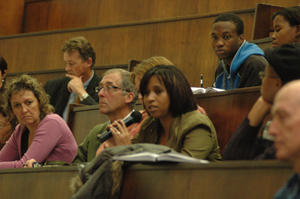 Top: Superintendent Henry Hubbard of the Rondebosch Police Station and Marthinus Fourie of the Mowbray station meeting with Prof Martin Hall and Prof Njabulo S Ndebele. Below: Staff and students at last week's crime prevention forum had a chance to ask some hard questions.
UCT has underlined its commitment to reducing crime by holding a meeting with the station commanders of the South African Police Services at Mowbray and Rondebosch and, later on the same day, hosting the first of several crime prevention forums for the university community.
Hosted by Deputy Vice-Chancellor Professor Martin Hall, the forums provided a platform for staff and students to voice their concerns about crime, in the wake of the recent armed robbery on middle campus and the murder (off campus) of respected academic Professor Kevin Rochford.
Meeting with the station commanders, Vice-Chancellor and Principal Professor Njabulo S Ndebele said UCT and the SAPS had worked hard to establish a mutually supportive relationship, aimed at reducing crime in the immediate precincts of UCT.
Hall added that UCT's crime prevention efforts should be seen in the context of the multi-pronged civic improvement district plan.
Under discussion were possible plans to extend UCT's CCTV camera surveillance to crime hotspots just off campus.
On the eve of completing his last term as Vice-Chancellor, Prof Ndebele thanked Superintendents Henry Hubbard (Rondebosch) and Marthinus Fourie (Mowbray), for their commitment and co-operation.
The chief concerns expressed at the crime-prevention forum centred on UCT as a gun-free campus, the extension of protection to semester-abroad and other international students living off campus, patrols in poorly-lit parking areas, and enforcing the rule that students and staff carry their UCT cards at all times.
Those who were unable to attend the forums may present their crime-related questions via the email Crimeprevention@uct.ac.za.
---
This work is licensed under a Creative Commons Attribution-NoDerivatives 4.0 International License.
Please view the republishing articles page for more information.
---