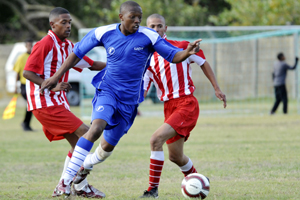 UCT's Mpho Madiba leaves two Clarewood defenders for dead in UCT's 6-2 win on 19 April.
Soccer
The 2008 season promises to be an eventful one for the men's soccer first team. The side has started their 2008 season in the super league of the Cape District Football Association - they won promotion at the end of 2007 - with mixed results, a 1-2 defeat followed by a 6-2 goalfest against Clarewood. (All six UCT goals came in the second half.) Coach Fani Mthethwa has high hopes for his side. "I have a team that can finish on top this year," he said after that first-game defeat. "We just have to start winning." UCT squandered plenty of chances in that second game, but those six goals should please Mthethwa.
Netball
The UCT netball first team will compete in the A1 league again this year, despite winning promotion to the Super League at the end of 2007. UCT received permission to do so as they've usually found the unforgiving Super League a hard nut to crack. Not that they don't have the skills, but the team, built around students who regularly move on, could never produce the same team from one year to the next. Their 79-16 hammering of Belhar in their season-opening game on 19 April would suggest, instead, that they're going to enjoy another runaway year in the Super League, which they've won for the past two years.
Rugby
After a sparkling showing in the recent FNB Varsity Cup, the FNB UCT First XV rugby team has slowed down, losing their first two matches in the Western Province Super League, both played at home. The team's season started with a narrow 14-15 defeat to Durb-Bell on 11 April. Both teams scored two tries. The Ikeys may want to forget their second game, though. After their try spree in the Varsity Club, they failed to touch down even once - while conceding four tries - in their 18-29 defeat to Hamiltons on 18 April. Here's hoping they recapture that form that saw them named the team that played the best rugby in the Varsity Cup.
Hockey
No fewer than three former UCT students/players have been named for the 18-strong South African squad to take part in an upcoming Four Nations International Tournament in Beijing, China. Paul Blake (Western Province), Ian Symons (North-West) and Andrew Cronje (WP) will make the trip to China for the tournament, which takes place from 18 to 23 May. South Africa will vie for honours with hosts China, as well as Holland and Korea. The SA side is using the tournament to test-drive the humid conditions in Beijing, part of their preparations for the Beijing Olympic Games in August.
---
This work is licensed under a Creative Commons Attribution-NoDerivatives 4.0 International License.
Please view the republishing articles page for more information.
---