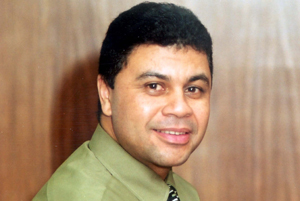 Hot seat: Research, funding and transformation are key concerns for Prof Francis Petersen, who took over as dean of EBE on 1 April.
Professor Francis Petersen's first task as new Dean of the Faculty of Engineering & Built Environment will be to consolidate the faculty's position as the leading faculty in Africa.
The to-dolist that follows is closely aligned: recruiting quality undergraduate and postgraduate students ("This way we produce quality graduates."), creating an environment conducive to sound research, and building networks.
Raised in Malmesbury, a graduate of Stellenbosch University and recipient of the Ernest Oppenheimer Memorial Trust award, Petersen comes highly connected.
He's the former executive head of strategy at Anglo Platinum and executive vice-president of research and development at Mintek. Count also key positions on the National Advisory Council on Innovation, and is a member of the boards of the National Research Foundation and the Council for Scientific and Industrial Research.
In addition, Petersen is chairperson of the interim Technology Innovation Agency and a Fellow of both the South African Institute of Mining and Metallurgy and the South African Academy of Engineers.
"Through these networks I hope to play a more critical role in securing research funding and research equipment funding," he said.
Transformation is also a key consideration. The faculty's successes are well known. UCT produces many of the country's - and continent's - black engineers. But there are gaps in the teaching profile. Here, Petersen's approach is to think "differently".
"We're should be exploring at joint appointments and secondments from industry, a collective plan to ensure we don't suffer an outflow from the faculty."
With diverse disciplines to manage, Petersen is especially keen on the concept 'One EBE'.
It's integral to his vision of establishing the faculty as the first choice of engineering students.
"In South Africa we're probably already there. But I want to make the faculty first choice internationally."
This will require some benchmarking, rating the faculty against local and international faculties of similar size and activity, and isolating factors that will create a strategic edge.
Again, Petersen's network should prove invaluable, pointing to key areas for research and innovation in the next 10 years, "giving us a head start against other engineering faculties".
He describes his management style as participatory. He encourages rigorous debate and input.
But he doesn't like surprises.
"If there are issues they need to be put on the table upfront so that we can work out a solution together."
---
This work is licensed under a Creative Commons Attribution-NoDerivatives 4.0 International License.
Please view the republishing articles page for more information.
---