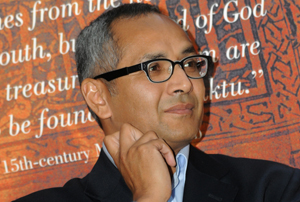 Between words: Dr Shamil Jeppie, co-author/editor of The Meanings of Timbuktu, published by HSRC Press.
UCT scholar Dr Shamil Jeppie is co-author/editor of a valuable new book, The Meanings of Timbuktu, a collection of 24 essays that unveils West Africa's illustrious tradition of scholarship.
As myth and legend suggest, Timbuktu is in the middle of nowhere. But this Malian city was once a cultural hub, a thriving centre for trade and learning. And the written record of this era has found its way into the book.
Over 300 000 manuscripts, some dating back to the 13th century, and covering everything from law to medicine, astronomy to literature, are scattered in libraries around Timbuktu.
African scholarship before the advent of European colonialism is lesser known than the continent's archaeology or oral history, say the authors. It is not part of school or university curricula. This belies the vast corpus of material available for study, extending from West and East Africa, even to Cape Town in the corner of the continent.
Jeppie and his colleague from historical studies, Shaid Mathee, have been studying the scripts, part of UCT's Ford-Foundation-funded Timbuktu-UCT Manuscripts Project, or Tombouctou.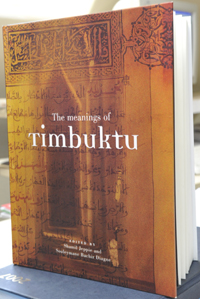 It is this material that forms the backbone of the volume, co-edited by Professor Souleymane Bachir Diagne of Northwestern University in the US. Most of the papers were presented at a conference of the Tombouctou Manuscript Project at UCT in 2005.
"… we believe Timbuktu's recent fame should be kept alive for a bit longer among scholars interested in the past of books and libraries; it should remain prominent among those concerned with at least a part of Africa's last few hundred years of written history," the authors write in the preface.
Timbuktu was not the only centre of intellectural pursuit. Abyssinia also boasted a thriving centre of reading, writing and knowledge production, and there are other examples across the Sahara, from Senegal to Ethiopia, down the East African coast to Mozambique.
"They unambiguously reveal the sophisticated use of a wide diversity of Africa's languages in high-level intellectual pursuits, demonstrating African people's capacities to express themselves in complex forms and African intellectual capabilities over the centuries," Jeppie writes in the first chapter
It is thus a myth that African oral traditions were the sole reflection of African intellectual tradition.
"This new history will no doubt have to correct the hitherto most neglected aspects of the study of Africa's past, including the written legacies from the period before European colonialism," Jeppie concludes.
---
This work is licensed under a Creative Commons Attribution-NoDerivatives 4.0 International License.
Please view the republishing articles page for more information.
---