Economics and sociology slowly converging?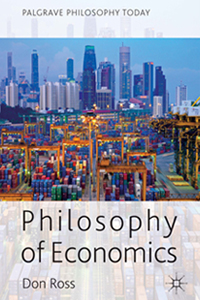 Some say money; but that only applies - at a stretch - to macroeconomics, writes Dean of Commerce Professor Don Ross in his new book, Philosophy of Economics, published by Macmillan.
The A-rated researcher writes in the introduction (to what is his twelfth published book) that while some maintain economics is about money, others say it is about "incentivised choices".
"Through a review of the history and methodology of economics, with special focus on the past 60 years, the book shows why the second answer is more accurate," writes Ross. "But this leads straight into another problem: psychologists study choices too. So how is economics different from psychology?"
By showing how economics is really about groups or populations of people, not just individuals, Ross distinguishes economics from psychology. He criticises the current popular wave of behavioural economics, showing how many studies under that label confuse economics with psychology.
But if economics is about structures of group response, then how is it different from sociology?
"The book shows how and why economics and sociology are currently converging, perhaps ultimately to form a single unified discipline fed by two distinct historical tributaries."
Ross, who is also programme director for methodology in the Centre for Economic Analysis of Risk at Georgia State University, deals with a number of currently debated topics. These include the question of whether economists should be blamed for failing to have anticipated the onset of the Great Recession in 2008.
Helen Swingler
Building a teaching and support community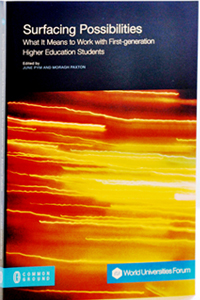 South Africa is one of the world's most unequal societies, and universities like UCT grapple with equity and diversity - particularly in the classroom, where a one-size-fits-all approach to teaching has failed.
Surfacing Possibilities: What it means to work with first-generation higher education students focuses on the challenges faced by first-generation undergraduates who come from a diversity of linguistic, social, and cultural backgrounds and have often experienced disadvantage.
Under the editorship of Associate Professors June Pym and Moragh Paxton, a number of UCT staff members (three of whom are former Distinguished Teacher Awardees) provide a practical look at how they grapple with these challenges, whether through curriculum change for development and equity, or innovations in courses like statistics, economics and financial accounting.
The case studies are prefaced by an introduction to the Education Development Unit's Academic Development Programme (ADP) within the Faculty of Commerce. The ADP has been built on extensive research and scholarship, as well as ongoing success, reflected in growing graduation rates.
Pym believes the book holds many lessons for developing and developed countries: "This new generation of students calls for different directions in teaching, learning, and support; and we have focused on harnessing student agency, rather than working with a deficit model." By this Pym means that the book emphasises students' holistic development, in which everything is addressed - from a student's psychosocial background to his or her graduate attributes.
Helen Swingler
Yearning for unimportance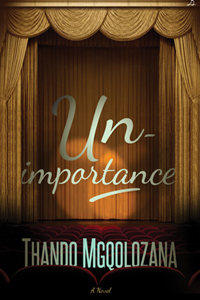 Image is just about everything for a politician's career; and the protagonist of UCT researcher Thando Mgqolozana's latest book, Unimportance, is learning that a façade can only be propped up for so long.
Zizi, an aspiring student politician, is a bundle of nerves the evening before he is due to deliver his election manifesto. He assaults his cheating girlfriend; and when she flees, Zizi panics, dreading that the truth about his character and deeds will stain his poster-boy reputation.
Unimportance, due to be published in April by Jacana Media, follows A Man Who is Not a Man (2009) and Hear Me Alone (2011). The title is derived from Zizi's manifesto speech-cum-confession session, in which he revokes his candidacy for the Student Representative Council and announces that he is going home instead.
Zizi's sole wish at this point is to be "free and unimportant".
Mgqolozana, a research development officer at UCT, previously worked for the Human Sciences Research Council. A Mandela Rhodes Scholar in 2006, he was listed among the Mail & Guardian's top 200 young South Africans in 2010.
Yusuf Omar
Everyday heroes inspire further education
A social intervention project by UCT postgraduate students and postdoctoral fellows has birthed a book containing the inspirational stories of 25 Africans, who hope that by telling their stories they will be able to motivate young people from impoverished areas to educate themselves.
Dikakapa Everyday Heroes: African journeys to success was published by the six founders of Dikakapa-Everyday Heroes (dikakapa is the Sotho word for champions) at the end of last year, in partnership with Juta & Co, the David and Elaine Potter Foundation, UCT OpenContent and Inqaba Biotech.
"We visit high schools where we interact, motivate and encourage learners to use education as a tool to achieve success in their lives," says Dr Andile Nofemela, co-founder and a former postdoctoral fellow at the Division of Medical Virology at UCT's Institute of Infectious Diseases and Molecular Medicine.
Nofemela's co-founders, also health science postgrads, are Dr Aron Abera, Dr Hlumani Ndlovu, Agano Kiravu, Retsilisitsoe Moholisa and Khethelo Xulu.
Initially the book will be distributed free of charge at two local schools, Fezeka High in Gugulethu and Thandokhulu High in Mowbray. In order to reach more learners they are partnering with initiatives like 100-UP, a UCT Schools Improvement Initiative programme aimed at preparing academically gifted learners from Khayelitsha to compete for places at UCT.
"Through partnerships with NPOs like Magaeng Developers for Science and Engineering, also founded by UCT graduates, we will reach learners in the villages of Mpumalanga and KwaZulu-Natal," adds Xulu, co-founder and a master's graduate from the Division of Haematology. The book is also available online at the UCT OpenContent website.
Abigail Calata
Fresh perspectives for students of Constitution
Constitutional law students at UCT have a new core reference, one that has been lauded by top law faculties around South Africa. South African Constitutional Law in Context seeks to balance accurate descriptions of the most authoritative interpretation of the Constitution with a critical and enquiring approach, say publishers Oxford University Press. This is to help readers grapple with key concepts while being presented with material that provides depth and diversity of perspective.
Co-edited by UCT's Prof Pierre de Vos, the Claude Leon Foundation Chair in Constitutional Governance, and Prof Warren Freedman of the University of KwaZulu-Natal, the book is aimed at those studying Constitutional law as part of their LLB degree, as well as postgraduate students and legal practitioners wishing to deepen their understanding.
"This is a timely addition to the growing literature on South Africa's Constitutional law," says Prof Danwood Chirwa, head of UCT's Department of Public Law. "It provides a contextualised, comprehensive account of the fast-growing field of South African Constitutional law in an accessible, interactive and thought-provoking style, without misrepresenting the complexity and fluidity of the subject. Its advantages over competing works in the area lie in its conciseness and contextualisation, and in its invitation to the reader to interact with and reflect upon the text."
Prof Jonathan Klaaren, lecturer at the University of Witwatersrand's School of Law, describes the book as a -"sorely needed comprehensive overview of, and introduction to, Constitutional law in South Africa. There is a diversity of views within the field of South African Constitutional law, and this text points to many of them – and not just the dominant ones; a feature long missing in Constitutional law books."
Yusuf Omar
Taking risks in academic writing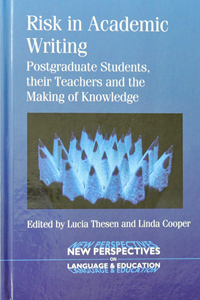 "If I were to read only one book on academic writing this year, this would have to be it."
So says Emeritus Professor of Higher Education Research at Leeds Metropolitan University Sue Clegg, referring to a recently published book edited by two UCT academics, Risk in Academic Writing: Postgraduate students, their teachers and the making of knowledge.
Dr Lucia Thesen and Associate Professor Linda Cooper edited the volume of essays about how likely students were to take the risk of trying out new forms in their writings.
"In the contemporary higher education landscape, which is characterised by an unprecedented movement of people, texts and capital, this problem of erasures and silences is a deeply political issue," writes Thesen. "What forms and knowledges are being erased? Why? Who benefits, and who remains silent?
"The contributors approach these issues by means of a new reading of the idea of risk, one that emphasises risk-taking as productive; and by exploring what this means for the process and product of research writing."
Thesen is a senior lecturer in the Centre for Higher Education Development (CHED). Her research focuses on ways of teaching writing to postgraduate students, and alternative forms and functions of academic writing. Cooper, also of CHED, focuses on worker education, the recognition of prior learning, and theorising different forms of knowledge.
Yusuf Omar
---
This work is licensed under a Creative Commons Attribution-NoDerivatives 4.0 International License.
Please view the republishing articles page for more information.
---