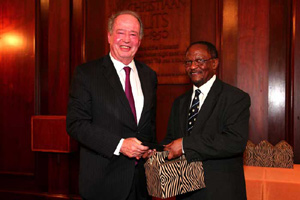 Long server: The Vice-Chancellor and Principal, Prof Njabulo S Ndebele (right), congratulated Prof Brian Kantor on his retirement after 43 years with the university.
Some can't get enough of a good thing? Far from heading into the sunset of woodwork projects and knitting for charity or consultancies, several of this year's retirees have chosen to stay close to the university - even after so many years.
And they have clocked up some service. Among the 25 of the 37 retirees who attended the formal function at Smuts Hall, attended by the Vice-Chancellor, Professor Njabulo S Ndebele, we counted 641 years of service.
Among this group were Professors Brian Kantor of the School of Economics (43 years' service), John Webb of the Department of Mathematics and Applied Mathematics (41 years) and Heinz Rüther, School of Architecture, Planning and Geomatics (35 years).
Webb's name has been synonymous with UCT's renowned maths competition for schools.
After completing his BSc honours at UCT in 1962, Webb obtained a Strakosch Memorial Scholarship to attend Cambridge (Gonville and Caius College) from 1963 to1966. He completed his PhD there in the same year and returned to UCT as a lecturer.
There have been many memorable achievements during his long stint but he singles out one: the Distinguished Teacher Award in 1984.
He's passionate about teaching maths at more junior levels, forging close relationships with local schools.
"Being part of the electrifying buzz on an evening in April every year, when the campus is invaded by 6 000 high school students all eager to spend 75 minutes cracking tough maths problems," Webb said.
Treasured memories? "I was presented with a large slice of chocolate cake by two students on the occasion of my last MAM2000W lecture of the year, and of my career!"
But some moments are extraordinary. Webb was in the Jameson Hall when the Torch of Academic Freedom was extinguished in 1960. And he was there again when it was rekindled in 1991.
Back in 1971 he launched Mathematical Digest, a quarterly magazine for high schools, which has appeared without break since then.
"The maths competitions and Olympiads have always featured in the magazine."
In 1977 he became involved in a maths competition for schools, organised by Cape Town teachers.
It rapidly outgrew the capacity of any local school to host it, and Webb was instrumental in moving it to UCT in 1980. When its founder, Mona Leeuwenburg, died in 1987, he took over as director."
This year the department hosted a record 6 160 contestants from a record 134 schools (134).
"If we had more space on campus we could enrol more students!
"Though there are bigger events elsewhere in the world, for example, the Australian Mathematics Competition attracts over 400 000 entries, the UCT Maths Competition is the biggest maths competition in the world with all the contestants taking part at the same time and in the same place."
Webb will continue running the competition until a willing successor is found.
"My present target is the Dinaledi schools: I want to get every Dinaledi school in the Western Cape to take part."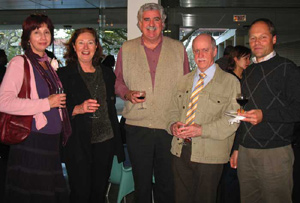 Another retiree was Jeremy Galvin of the Faculty of Engineering & the Built Environment, who is retiring after 27 years at UCT.
Galvin joined EBE as the faculty officer. He recalls that when he arrived at UCT there were no PCs on the desks. Information on applications was handwritten and sent to Bremner where all the data was captured.
There were 859 students, mainly white males. In the 90s, Jeremy saw rapid change - the faculties amalgamated, there was a huge increase in student numbers, and new systems (SAP, Peoplesoft) were introduced. The faculty now has 3700 students of which 60% are black and 26% female.
"Jeremy has made a huge contribution to the faculty," says Professor O'Connor, dean of EBE. "He has great leadership skills, an incredible professional manner in his job, and is a superb minute taker."
Galvin plans to continue his passion for traveling and studying and hopes to cultivate new interests.
The other retirees are Dr Michael Beatty, Prof Solly Benatar, Prof George Branch, Dr Patricia Burger, Donald Cook, Dr Neil Dewar, Prof Cesareo Dominguez, Dr Jean Firth, Sean Kierman, Dr Mwelase Mazamisa, Prof Jonathan Peter, Assoc Prof Dan Steenkamp, Leonard Watkins, John Cooper. Those taking early retirement are: Dr Lydia Abel, Sidney Adams, Nuraan Allie, David Basson, Keith Brink, Florence Cloete, Lorraine Galant, Prof David Haynes, Prof Brian Kantor, Cedrick Meyer, Latifa Omar, Lynn O'Neill, Steven Petersen, Melany Peterson, Margaret Phillips, David Querido, Jean Sorrell, Louw Toerien, Prof Richard Whittaker, Dugmore Williams, Zuziwe Mathe, Maureen Cooton, Michael Herbert, Particia Halford. From the Provincial Government of the Western Cape: Dr A Philotheou, Prof Clare Stannard, Assoc Prof Edward Coetzee and Dr I Boyd.
---
This work is licensed under a Creative Commons Attribution-NoDerivatives 4.0 International License.
Please view the republishing articles page for more information.
---