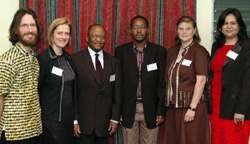 Hailed: Recipients of 2007 Fellowship Awards Dr David Gay, Fritha Langerman, Dr Danwood Chirwa, Dr Sandrine Lecour and Dr Virna Leaner with Vice-Chancellor and Principal, Prof Njabulo S Ndebele, at the annual Fellows Dinner, held two weeks ago.
UCT has welcomed five new fellows and has presented six researchers with Fellows Awards.
Fellowships
UCT fellowships are awarded to scholars for original and distinguished academic work. The new fellows are:

Professor Jonathan Burchell of the Department of Criminal Justice has distinguished himself in both civil and criminal law, and is hailed as a leading thinker who has helped shape South African law in these fields.
Professor Tim Crowe of the Percy FitzPatrick Institute of African Ornithology (affectionately known as the Fitztitute) has made telling contributions to the taxonomy, phylogeny and biogeography of game birds, as well as many other areas.
Professor Cesareo Dominguez of the Department of Physics has contributed substantially to elementary particle physics, a body of work that spans three decades.
Associate Professor Ingrid Fiske, aka Ingrid de Kok, has on occasion been described as South Africa's foremost poet, and her poetry is studied at universities across the globe.
Head of the Department of Paediatric Pulmonology, Professor Heather Zar is a rated researcher who focuses on child lung health and has concentrated her studies on infectious diseases such as childhood pneumonia, HIV-associated lung disease, childhood tuberculosis and asthma.
Fellows Award
Six Fellows Awards are made each year to academics under 40 who have made significant independent contributions to research in their field. This year's recipients are:
Dr Danwood Chirwa of the Department of Public Law works in the field of human rights law, and is currently wrapping up a book on human rights law in Malawi.
Professor Graeme Cumming, also of the Fitztitute, has spearheaded research programmes in landscape ecology and in spatial parasitology and epidemiology, as well as numerous other contributions at the institute.
Dr David Gay of the Department of Mathematics and Applied Mathematics works on the interface between the mathematical worlds of three and four dimensions and the disciplines of geometry and topology. His work has advanced the understanding of interactions between four-dimensional manifolds with additional geometric structures, cut-and-paste constructions and four-dimensional topology.
Fritha Langerman, a senior lecturer at the Michaelis School of Fine Art, leads research that explores and reveals the imagery of science and medicine and is particularly interested in the taxonomy of information and systems of ordering.
The work of Dr Virna Leaner of the Division of Medical Biochemistry has led to the discovery of a number of genes that could serve as diagnostic markers and therapeutic targets for oesophageal cancer.
And Dr Sandrine Lecour, a senior lecturer at the Hatter Institute for Cardiology Research, has developed a novel hypothesis that the heart has its own immune system that can be fortified to protect against model heart attacks.
---
This work is licensed under a Creative Commons Attribution-NoDerivatives 4.0 International License.
Please view the republishing articles page for more information.
---