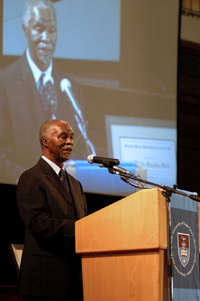 Biko honoured: President Thabo Mbeki delivered the eighth annual Steve Biko Memorial Lecture in Jameson Hall.
In a rousing lecture celebrating the life and legacy of Steve Biko, President Thabo Mbeki called for a return to the humanitarian principles of ubuntu
Have the majority of South Africans taken advantage of the victory over racial oppression, or do some still regard themselves as appendages of their self-appointed superiors? This was one of the key questions posed by President Thabo Mbeki in delivering the eighth annual Steve Biko Memorial Lecture to a packed Jameson Hall on 12 September.
Citing "negative social phenomena" such as rape, murder and corruption, Mbeki said that "society has been captured by a rapacious individualism which is corroding our social cohesion, which is repudiating the value and practice of human solidarity, and which totally rejects the fundamental precept of ubuntu".
"Is this the kind of society that Steve Biko visualised, that he fought and died for?" he asked.
Mbeki argued for a return to ubuntu.
"Ubuntu, which reminds us that a person is a person through other people, does not allow for an individualism that overrides the collective interests in a community," he said.
"It is firmly based on recognising the humanity in everyone. It emphasises the importance of knowing oneself and accepting the uniqueness in all of us so as to render meaningless the complexes of inferiority and superiority. Indeed ubuntu connects all of humanity irrespective of ethnicity or racial origins."
Mbeki noted that despite the onset of democracy, we still have a way to go before we reach Biko's goal of reasserting our pride and dignity by replacing old colonial and apartheid values. He quoted Biko as saying: "The great powers of the world may have done wonders in giving the world an industrial and military look, but the great gift still has to come from Africa - giving the world a more human face."
The lecture, which was received with rapturous applause and cheering, was introduced by Vice-Chancellor and Principal, Professor Njabulo S Ndebele. Guests included former heads of state Kenneth Kaunda of Zambia, Joachim Chissano of Mozambique and Jerry Rawlings of Ghana. Also in attendance were Deputy President Phumzile Mlambo-Ngcuka, Steve Biko's widow, Ntsiki Biko, former Vice-Chancellor and one of the co-founders of the Black Consciousness Movement, Dr Mamphela Ramphele, Minister of Science and Technology, Mosibudi Mangena, and out-going Anglican Archbishop of Cape Town, Njongonkulu Ndungane.
Mbeki's address concluded the Steve Biko Foundation's 30th Anniversary International Commemorative Conference, which ran from 10 to 12 September. Titled Consciousness, Agency and the African Development Agenda, the conference examined the historical role of black consciousness as well as its present-day relevance.
---
This work is licensed under a Creative Commons Attribution-NoDerivatives 4.0 International License.
Please view the republishing articles page for more information.
---