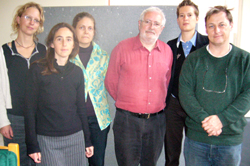 Last call: Prof Terry Eagleton (third from right) took centre stage at a recent colloquium that featured speakers, from left, Signe Hansen, Kylie Thomas, Louise Green, Bettina Malcomess and Prof John Higgins, his UCT host.
Renowned scholar and literary critic Professor Terry Eagleton capped his weeklong visit to UCT with a one day colloquium titled Theory in Question.
The meeting featured papers on the hand-made commodity by Louise Green of the Centre for African Studies, Picasso and African art by Bettina Malcomess of the Michaelis School of Fine Art, photography and AIDS by Kylie Thomas of Wits University, and food as commodity in postmodernity by Signe Hansen of the Centre for Film and Media Studies.
Eagleton, John Edward Taylor Professor of English Literature at Manchester University, also delivered a keynote address titled Revolution and Remembrance, written especially for the colloquium. In his paper, Eagleton examined the cultural and political dynamics of post revolutionary societies such as South Africa.
Professor John Higgins of the Department of English Language and Literature opened the colloquium by talking about research as science, pointing out that science becomes scientism when it seeks to force its methods of research onto different areas and disciplines. What works best for the sciences, said Higgins, may result in impoverished research in the humanities, where so much depends on respecting and nurturing the autonomy of individual research production.
The papers from the colloquium will be published as a book in a revised form by HSRC Press.
---
This work is licensed under a Creative Commons Attribution-NoDerivatives 4.0 International License.
Please view the republishing articles page for more information.
---