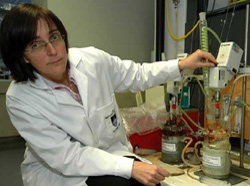 Supportive environment: Prof Sue Harrison is this year's Department of Science and Technology Distinguished Woman in Science award winner. Also flying UCT's flag at the awards was Dr Éva Plagányi-Lloyd (mathematics and applied mathematics), a finalist in the Best Emerging Young Scientist category.
Professor Sue Harrison has netted the Distinguished Woman Scientist award, announced at the annual Women in Science ceremony on 3 August.
The prize is one of several accolades created by the Department of Science and Technology (DST) to recognise women in science and their role in improving the economic status and quality of life of South Africans.
Harrison has an enviable international reputation as a leading researcher in bioprocess engineering and is involved in regional biotechnology initiatives. Her research centres on the optimisation, integration and modelling of bioprocesses, used in biomining, bioremediation studies, and the production of fine chemicals and enzymes in bio-energy.
Dean of the Faculty of Engineering and the Built Environment, Professor Cyril O' Connor, said in his nomination: "I can think of few people more worthy of recognition for their scientific achievements. Professor Harrison is an outstanding role model for young women aspiring to careers in science."
Speaking to Monday Paper on the eve of National Women's Day, Harrison said she didn't favour separating men's and women's achievements.
"But it is perhaps important at our stage of 'evolution' in this country."
Harrison said the achievements of women frequently required "holding the various parts of a big picture together", while balancing the demands of their families and professional lives.
"Being able to achieve this comes from an environment of a supportive family, one that provides the space for women to both follow dreams and to provide for those around them. In my case, key members of this supportive family are my husband, John, daughter and two sons, and, over the years, parents. In addition to my family are inspirational colleagues and mentors."
Harrison is a BSc honours (microbiology) graduate from UCT (1984). In 1990 she read for her PhD in chemical engineering at Trinity College, Cambridge, and worked as a postdoctoral researcher there before her appointment as a senior lecturer in UCT's Department of Chemical Engineering.
In 2004 she travelled to the UK as a Senior Zeneca Fellow in Cambridge's Department of Chemical Engineering where she developed curriculum material on sustainability in chemical engineering.
She is also one of the founding members of the Cape Biotechnology Initiative, created in 2001 and the forerunner of the Cape Biotechnology Trust, one of the DST's Biotechnology Innovation Centres.
In 2005 Harrison was the first UCT woman to be elected a Fellow of the South African Academy of Engineering, and only the second South African woman among its fellows.
---
This work is licensed under a Creative Commons Attribution-NoDerivatives 4.0 International License.
Please view the republishing articles page for more information.
---