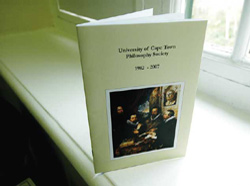 This year the UCT Philosophy Society celebrates a quarter century of deep, but not humourless, thinking. Looking back on its humble beginnings in 1982, this society is today as enthused as ever.
Founder Zak van Straaten, professor of philosophy from 1981 to 1991, believed that philosophy shouldn't be an elitist discipline, despite its formidable reputation. And this is exactly the foundation on which the society was built.
The society's primary aim is to foster and promote philosophy and philosophical thought in the greater Cape Town area by providing a forum for extramural philosophy lectures and discussions. The society meets monthly for a lecture, followed by a spirited or non-spirited - port is occasionally served - discussion in the Department of Philosophy's common room.
In the beginning, members had to present a blue membership card at meetings. Guests paid a cover charge of R2. The topics ranged from How Philosophy Began to Is the Mind the Brain?
"The society attracts a broad range of members," says Professor David Benatar, the society's sixth chair and head of the philosophy department. "Although some have a background in philosophy, most have no formal training in the discipline and members range in age from retired to high school pupils."
This year also marks a full decade that Benatar has served as chair of the society, which he joined in 1997.
These days, in addition to the more conventional lectures, there have been evenings of philosophical humour, screenings of Monty Python and talks on philosophy and magic.
As part of the anniversary celebrations, Professor Raimond Gaita of King's College, London, and Australian Catholic University, delivered a special lecture on Dignity: Alienable and Inalienable on 31 July. The society also released a 25th anniversary booklet.
"It is my hope that the UCT Philosophy Society will continue for many years to provide an opportunity for interested people to engage with philosophical problems and thinkers," says Benatar.
---
This work is licensed under a Creative Commons Attribution-NoDerivatives 4.0 International License.
Please view the republishing articles page for more information.
---