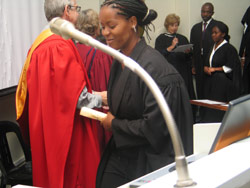 Professor Paula Ensor, dean of the Faculty of Humanities, presents Professional Declaration Certificates to students.
Senior sociologist Eric Atmore has urged students in the Department of Social Development to become 'social entrepreneurs' who will encourage society to take new directions.
A UCT graduate and director of the Centre for Early Childhood Development, Atmore was speaking at the department's annual Professional Declaration Ceremony on 17 April. At the event, second-year social-work students pledged their compliance to the Student Acknowledgement of Professional Conduct as they prepare for their first fieldwork.
Atmore told students to be 'innovative and creative' and identify what was not working in society, tackle it and make it work.
'The social entrepreneurs are ambitious and persistent. They are visionaries and are driven. We need more Mark Shuttleworths, Bill Gateses and Patrice Motsepes. After you have graduated, go out and rock the boat'.
Also at the event, class medals for 2006 were presented to top performers Megan Loraine-Grews, Terri Jackson, Alexandra Osborne, Erin Goodchild, Emma Attwell, Lauren Beatty, Lee Mallon, Yeukai Chideya, Stacey de Kock and Brian Kilbey.
---
This work is licensed under a Creative Commons Attribution-NoDerivatives 4.0 International License.
Please view the republishing articles page for more information.
---