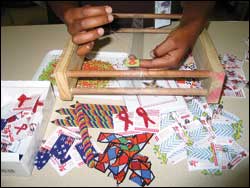 Handy work: A mother at work on items for the Positive Beadwork Project.
The Positive Beadwork Project, an initiative started by UCT and Groote Schuur staff, has won a silver award at this year's Impumelelo Innovations Awards Trust ceremony.
This award rewards innovations in government and public/private partnerships that reduce poverty and address key issues of national concern.
The Positive Beadwork project is aimed at economically empowering mothers living with HIV/AIDS and their children. The project is a partnership between Groote Schuur Hospital, the Kidzpositive Family Fund and caregivers of children with HIV/AIDS.
It was initiated by Dr Paul Roux, a lecturer in UCT's Division of Paediatric Medicine and a paediatrician at Groote Schuur Hospital, and it was launched in June 2002.
As part of the project, the mothers are given raw materials from which they produce a wealth of beaded items. The products range from badges with the South African flag and name holders and pens, to custom-made goods.
Customers include international schools and also conference organisers.
The project started when Roux noticed that most mothers with HIV-positive children that were being treated with ARVs at Groote Schuur were struggling financially. He decided to find a way to boost the incomes of these mothers. And that's how the Positive Beadwork Project came into being.
To date, 130 families benefit from the project and have earned over R4 million.
Medical doctors tend to only look at the disease, while patients' social circumstances are ignored, comments Roux. If doctors were to care about the patient's holistic being, a lot could be done to stop poverty becoming a major cause of death among HIV- positive people.
Kate Gray, a former UCT staff member and the project co-ordinator, states that thanks to the project, the mothers feel empowered and positive about themselves. As a result, a number of them have gone back to night school and are finishing high school.
Some mothers also become part of the HIV/AIDS support group that is run in conjunction with the hospital.
The Impumelelo Award comes as a reward for work well done.
"By winning this prize we have gained recognition," says Gray. "And it shows that a successful income-generation project can run in parallel with an HIV/AIDS clinic."
---
This work is licensed under a Creative Commons Attribution-NoDerivatives 4.0 International License.
Please view the republishing articles page for more information.
---