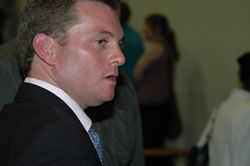 Fire and brimstone: Simon Grinrod, Cape Town's leader of the Independent Democrats, spoke unabatedly about the city's issues.
Three of Cape Town's leading public figures gathered at UCT on February 26 to bandy thoughts on the city's political and democratic culture.
The occasion was the Harold Wolpe Memorial Lecture, held in honour of the "gentle revolutionary" and former political theorist/sociologist.
The panel on the night were the city's executive mayor Helen Zille; the leader of the Independent Democrats in Cape Town, Simon Grinrod; and Tasneem Essop, the MEC for environmental affairs and development planning (standing in for Premier Ebrahim Rasool)
Over the two-hour-plus meeting, the three held court on issues such as the the widening gap between rich and poor, race-specific identities in the city and, lest anyone forget, the too-fractured opposition.
"We, the politicians, have fuelled the fires of polarisation," proposed Grinrod, "both in terms of our political infighting in our parties and our inability to put the residents of Cape Town first."
---
This work is licensed under a Creative Commons Attribution-NoDerivatives 4.0 International License.
Please view the republishing articles page for more information.
---