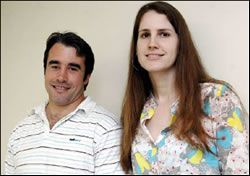 Under one cap: Anthony Roberts and Monique Whitaker will both be capped by Prof Richard Whitaker, Monque's father and Roberts' father-in-law, this week.
Monique Whitaker, who is graduating with her master's degree in philosophy, will be capped by her father, Professor Richard Whitaker of the School of Languages and Literatures.
And not for the first - or second - time.
Prof Whitaker, who at the time of writing had gone to deliver a paper at Brown University in the US, capped his daughter when she graduated with a BA degree, and then again when she completed her honours.
He did the same double duty for Monique's brother, Joseph.
Quite the old hand. But this week will be an exceptionally busy time for him.
He's also going to be capping doctoral graduate Anthony Roberts, husband to Monique's step-sister, Erin. Erin, too, is getting her teaching diploma and her MSc in zoology this week.
"So, there are lots of graduation celebrations in the family this year," says Monique.
Although she vowed not to follow her father into academia, Monique said she had a change of heart.
"I've started my PhD in philosophy here at UCT, though I'm applying to overseas universities to possibly study in the US or Britain later next year."
That might just mean an international capping by an old hand at the job.
---
This work is licensed under a Creative Commons Attribution-NoDerivatives 4.0 International License.
Please view the republishing articles page for more information.
---