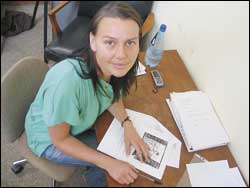 Benediction
editor Anneke Botha
Within days it had sold out at the Kloof Street branch of Exclusive Books, an encouraging start for UCT's first home grown creative writing magazine, Benediction, edited by honours graduate and film graduate and media tutor Anneke Botha.
The publication is sponsored by the Centre for Film and Media Studies and the Student Representative Council and showcases writing and poetry from students and their mentors. And not only students of language and literature, but students from any faculty or field of study. Ditto for staff.
Apart from fresh newcomers, the first edition also features established writers like Mary Watson, author of Moss, Susan Mann, author of One Tongue Singing, and Roy Robins, UCT lecturer and editor of New Contrast, an already established creative writing vehicle.
Benediction will try to plug a hole, says Botha.
"New Contrast is not as accessible to students or unknown creative writers. We wanted a stage for our creative writers to perform on. We're pulling back the curtain."
They've also gone for a classic, clean look.
"No sex, drugs and rock 'n roll, no free gimmicks," Botha adds. "There's such a bubble around creative writing. We wanted to make it accessible and affordable."
And at R20 a pop, it is affordable.
The team hopes to publish Benediction monthly. That would be first prize. Plan B is to publish every semester.
If you'd like to contribute to the magazine, send your work to benediction.magazine@gmail.com. But no "cigarette and coffee pieces," Botha begs.
Go on.
---
This work is licensed under a Creative Commons Attribution-NoDerivatives 4.0 International License.
Please view the republishing articles page for more information.
---