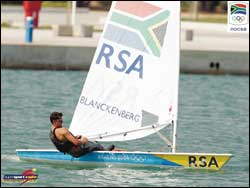 Gareth Blanckenberg
This past Saturday, the Sport and Recreation Department hosted its Annual Sports Awards Dinner.
A host of awards and honours were handed out on the evening, including UCT half-colours (for those who make senior provincial B sides and junior A sides) and full colours (for senior provincial A, national junior and SASSU representation).
The nominees for the best first-year student trophy were Sylma Jordaan (athletics), Adam Kajee and Fiona Mallett (both water polo) and Michael Malahe (fencing). There are five nominees for Club of the Year Award - badminton, mountain and ski, netball, tennis and water polo. Up for the Transformation Trophy were the golf, mountain and ski, and tennis clubs.
In the running for the Turpin Cup for service to UCT sport were Alapan Arnad (badminton), Joshua Marc Weinstein (judo), Anthony Hall (mountain and ski and rock climbing), Sarah-Jane Johnson (archery and tennis club outreach project) and Matthew Kemp (men's and women's water polo, and as a rugby referee).
For performance of the year - and the Landstem trophy - nominees were the mountain and ski club for summiting Cerro Tres Picos during their Patagonia expedition, the women's first team squash for winning the SASSU squash tournament for the first time in 15 years, the men's and women's water polo teams for winning their respective SASSU tournaments, Gareth Blanckenberg for sailing (skipper of the winning yacht at the 2006 Lipton Cup), and the fencing men's team for winning SASSU 2006.
Nominees for the category of team of the year, with the Butterworth Cup up for grabs, were the athletics women's distance running team, the squash women's first team, tennis women's first team, the water polo women's first team and the water polo men's first team.
Former winners of the Jamison cup, Jenine Ellappen (chess) and Siyoli Lusaseni (squash), were in the running again, going up against James Gordon (fencing), Gareth Blanckenberg (sailing), Oliver Hobson (sailing) and the three women who represented the South African water polo team at the Commonwealth Games, Fiona Mallett, Jade Liddell and Robyn Brooker for Sportsperson of the Year title.
Retiring coaches Pierre le Roux and Charles Stuart were presented with awards in appreciation of their 16 and nine years' involvement with UCT hockey.
---
This work is licensed under a Creative Commons Attribution-NoDerivatives 4.0 International License.
Please view the republishing articles page for more information.
---