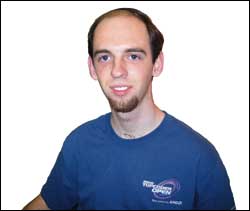 All the way: Bruce Merry will take on the world's best young programmers in the States.
PhD student Bruce Merry's affinity for algorithms has landed him a spot as a finalist in two major international programming competitions.
A computer science student specialising in computer graphics and algorithms, Merry will be jetting off to the States to compete against the world's finest programmers in the Google Code Jam programming and the TopCoder Collegiate Challenge Algorithm competitions in the upcoming weeks.
The Google Code Jam, sponsored by the world's largest search engine, is an annual online computer programming competition where participants are presented with a series of challenges that surely stretch their skills and creativity to solve. More than 20 000 competitors from all over the world took part in the contest, which consisted of three online rounds.
Merry is among the top 100 contestants who have won an all-expenses paid trip to New York to compete in the finals at Google's New York engineering office on October 27.
"I'm hoping to get into the top 10," he comments. "I think I have a reasonably good chance and that's my goal."
In mathematics, an algorithm is a formula used for solving problems, such as finding a common divisor of two numbers or multiplying two numbers. Most algorithms can be directly used by computer programs.
According to Google, the Code Jam is "an incredible opportunity for the most talented and fastest computer scientists in the world to gather and compete on an international stage".
"Google is proud to support these amazing coders as they take on some of the world's most challenging programming problems," the company said in a statement.
The grand prize is a grand US$10 000.
Computer programmers can test their coding- and problem-solving skills in weekly online competitions offered by international companies such as US-based TopCoder, which is powering the Google Code Jam tournament.
Merry has been taking part in TopCoder competitions for several years.
"I mainly do it just for fun, and it keeps my programming in shape," he says. "And it's a challenge because there are some incredibly good guys out there."
Merry is obviously one of those good guys because he has also landed a place in the finals of the annual TopCoder Collegiate Challenge Algorithm Competition, a timed tournament for university students, to be held in San Diego from November 15 to 17. There he will be going head to head with 48 other finalists competing for the $25 000 first prize.
After graduating next year, Merry hopes to indulge his passion as a programmer in the computer graphics industry, particularly in computer games. It is a multi-billion-dollar industry that's still growing and is set to eclipse the film industry.
Merry would like to remain in Cape Town. However, competitions such as the Google Code Jam attract scouts looking to employ the world's best computer fundis (especially those with PhDs).
Cape Town may well lose him to the Yanks.
---
This work is licensed under a Creative Commons Attribution-NoDerivatives 4.0 International License.
Please view the republishing articles page for more information.
---