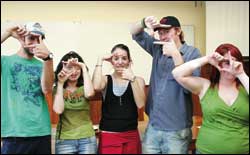 Framed for Success: (From left) Daniel Manners, Olga Kerimova, Emma Lambert-Porter, Sean Drummond and Miko Schneider are this year's class medal winners in the Centre for Film and Media Studies.
"There are advantages in coming from large flat places nobody wishes to visit."
This quirky comment, a quote from TS Eliot, came from Associate Professor Ian Glenn, director of the Centre for Film and Media Studies (CFMS), at a special celebratory lunch in October. He was referring to the Free State origins of special guests André P Brink and Max du Preez, as well as to Martin Botha, who heads up the film section in the CFMS, and François Verster, a UCT graduate who was being honoured in absentia.
The occasion was arranged to toast the achievements of the CFMS, with its staff and students picking up high-profile national and international honours in recent months. Among these were lecturer Mary Watson, winner of the 2006 Caine Prize for African Writing, and Brink, an honorary professor at UCT, who received the Order of Ikhamanga (Silver) from President Thabo Mbeki a few weeks ago.
But Brink and Watson weren't the only luminaries at the lunch. The lunch also welcomed Du Preez and Cybertracker expert Louis Liebenberg as potential honorary research associates in the department. Among the special guests was Mark Kaplan, a lecturer in the drama department's MFA in film production. A Lion's Trail, a documentary directed by Verster and co-produced by Kaplan, Verster and Dan Jawitz, recently won an Emmy Award in New York for outstanding cultural and artistic programming.
In turn, CFMS student Willem Grobler was honoured for winning the best short-film award in the newcomer section at the recent Apollo Film Festival in the Karoo for his work, Considerately Killing Me.
Finally, Brink presented CFMS class medals to Olga Kerimova for her outstanding work on the Media and Society course, Emma Lambert-Porter for the Writing and Editing in the Media course, Daniel Manners for Foundation Production Skills, Miko Schneider for Media in South Africa, as well as Sean Drummond for Advanced Media Studies.
---
This work is licensed under a Creative Commons Attribution-NoDerivatives 4.0 International License.
Please view the republishing articles page for more information.
---