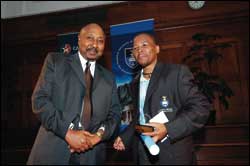 Leading the pack: Among those honoured at the UCT Student Leadership Awards was Ludwe Mbhele, here with DVC Prof Thandabantu Nhlapo.
The UCT Caltex Student Leadership Awards are fast becoming a highlight of the student calendar. It is here that students' extra-curricular activities - although good marks don't hurt - are honoured, and the students are lavished with awards, praise and prize money.
The Vice-Chancellor's Award, for promoting the vision, mission and values of UCT, went to Rob Garlick for his role in organisations like Inkanyezi, which helps disadvantaged learners get access to universities; the Community Development Forum; and the South African Education and Environmental Project's TeachOUT Project.
Ludwe Mbhele was named as the winner of the Deputy Vice-Chancellor's Award. Mbhele has led SRC delegations to the All African Student Conference, the Ethical Leadership Conference, the World Youth Union Summit, the International Education Association of South Africa's Annual Conference, and the South African Union of Students' Policy Summit.
The Executive Director, Department of Student Affairs' Award went to Kate Orkin, who in her time at UCT has earned the Fulbright Scholarship, the Anglo American Open Scholarship, the Goldman Sachs Global Leader Award and the Ackerman Foundation Leadership Scholarship, and is currently short-listed for the Flanagan Scholarship and the Mandela Rhodes Scholarship.
The Most Outstanding Student Leader in Media Award went to Cathryn Reece for, among other things, her multi-pronged work as editor-in-chief of Varsity newspaper.
Sara Reith walked off with the award for the Most Outstanding Student Leader in Residence for her tireless work as head student of Varietas Residence.
Riaz Dhai won the Most Outstanding Student Leader in Societies and Organisations Award. Dhai is a founding member of the Investsoc Alumni Forum, and established the Investsoc community development arm.
The Most Outstanding Student Leader in Community Service Award was made to Nick Friedman, who has served in leading positions on the Commerce Student Faculty Council, the UCT Debating Union, the Aids Law Project, the Treatment Action Campaign, RAG and SHAWCO.
The Most Outstanding Student Leader in Undergraduate Faculty Councils went to Coceka Mfundisi, chairperson of the Health Sciences Student Faculty Council, for her work on that body and countless others.
Previous winner Chad Botha won the Most Outstanding Student Leader in Postgraduate Faculty Councils Award for his work with the Postgraduate Student Association and the sector in general.
In addition to these, other prizes and scholarships were also made, including the Abe Bailey Travel Bursary, the International Exchange Opportunity, the Sir Richard Luyt Memorial Scholarship, the Dwane Martin Memorial Scholarship and the Ackerman Family Trust Scholarship (the latter three all presented by Alderman Clive Keegan).
---
This work is licensed under a Creative Commons Attribution-NoDerivatives 4.0 International License.
Please view the republishing articles page for more information.
---