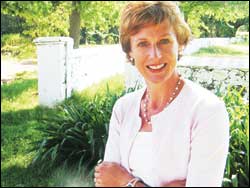 In memory: Dr Lindsay Weight is remembered fondly by those who ran and worked with her.
UCT Comrades Marathon winner and lecturer Lindsay Weight died at her Hout Bay home on September 12, aged 44.
Weight was, in the words of James Evans (coach at the UCT Athletics Club) one of the club's icons. She was just one of three members of the club to have won the Comrades Marathon, which she did twice - in both 1983 and 1984. She was just 21 and a student at KwaZulu-Natal University when she won the 1983 race in a winning time of 7:12:56, becoming the first woman to earn a Comrades gold medal.
She did even better in the 1984 down run. Running in UCT colours, she became the first woman to break the seven-hour barrier, smashing the women's record by just over 18 minutes to win in a time of 6:46:35.
In total, she won 11 Comrades medals, including six golds and five bronze medals.
Weight also boasted a second in the Two Oceans Ultra Marathon. Her best marathon time, recorded some 22 years ago, is still the 53rd best ever by a South African woman.
She also played other roles in sport. She was also a popular radio and television commentator, and contributed regular pieces for magazines like Runner's World.
In addition, Weight, who finished her PhD at UCT, was a beloved academic in the Department of Human Biology, where she contributed to the recent changes in curriculum in the Faculty of Health Sciences. A dedicated teacher, she also signed up last year for the Higher Education Studies (HES) programme of the Centre for Higher Education Development (CHED), which covers teaching theory and practice.
"She excelled in all aspects of her life," said Professor Sue Kidson, head of the Department of Human Biology, in a newspaper interview. "Lindsay cared a lot about her students and got to know each one personally."
Weight was just as eager to pass on what she knew about running to the young members of the athletics club at UCT, and beyond.
"Lindsay became quite passionate about assisting younger people and was always willing to offer advice and assistance," says Evans. "She did not hesitate to accept our invitation to participate in our series of talks earlier this year."
Many have paid tribute to Weight over recent weeks. The Faculty of Health Sciences hosted a memorial service in her honour on September 14. Students groups arranged a similar event.
On September 23, the Sports Science Institute of South Africa (SSISA) and her husband, Ian, hosted a memorial run in her honour.
Her family has also established a fund in her name at UCT, which will benefit promising young female athletes with limited means to support themselves in further education.
Donations can be made to:
Bank: Standard Bank of South Africa
Account Holder: UCT Donations Account
Branch: Rondebosch
Branch Code: 02 50 09
Account Number: 07 152 2387
Account Type: Current
Beneficiary Reference: Lindsay Weight Memorial Scholarship Fund.
Weight is survived by her children Christopher (11) and Genevieve (6), and her husband, Ian.
---
This work is licensed under a Creative Commons Attribution-NoDerivatives 4.0 International License.
Please view the republishing articles page for more information.
---