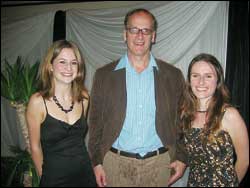 Prof Robert Cameron, flanked by winners Kate Orkin (left) and Lisa van Dongen.
UCT students Lisa van Dongen and Kate Orkin have won the SAAPS 2005 Best Student Awards, respectively, for Best Honours Student and Best Third-Year Student.
The SAAPS (South African Association of Political Studies) is a Southern African body representative of political scientists in the country. The SAAPS offers only two awards annually.
Professor Robert Cameron (head of Department of Political Studies) said it is an "indication of the high standards set by all staff members in this department". Cameron added that the department provides rigorous support at both undergraduate and postgraduate level. Postgraduates engage in arduous staff-student presentations of their research proposals and papers.
The process for the awards is that every Political Science department in the country were asked to nominates candidates. Candidates were asked to submit their best pieces of work which then went to independent adjudication. The adjudication process was separate for undergraduate and honours students.
The judges were: Professor David Moore (UKZN, Howard College), Professor Maxi Schoeman (UP), Dr Laurence Piper (UKZN, Pietermaritzburg) and Dr Anthoni van Nieuwkerk (Wits, PDM). Judges are selected from the pool of political studies/ science academics from around the country. The judges were unanimous in their decisions and remarked on the high standard of the entries.
Both Van Dongen and Orkin were also asked to present their papers at the 2006 SAAPS Biennial Conference.
The SAAPS Best Student Award is a "prestigious award to win and will hopefully encourage Kate and Lisa to pursue academic careers in the future", Cameron said.
---
This work is licensed under a Creative Commons Attribution-NoDerivatives 4.0 International License.
Please view the republishing articles page for more information.
---