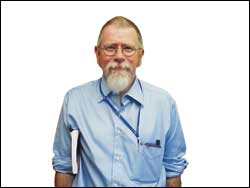 Teaching in changing times: Dr Jonathan Clark.
Dr Jenni Case of the Centre for Research in Engineering Education at UCT (CREE) recently hosted the launch of Changing Teaching, Changing Times, a book on South African science education by Dr Jonathan Clark of False Bay FET College, and Professor Cedric Linder of Uppsala University in Sweden and the University of the Western Cape (UWC).
Clark is a softly spoken man who is passionate about helping science teachers achieve their full potential, which is how he came to focus on teacher development when completing his DEd in science education at the University of Western Cape.
He is also a graduate of UCT (where he completed a BSc, BEd and MEd) is a firm believer in the power of "individual agency". In this respect, he has walked the walk, having worked as a science teacher in Khayelitsha for almost 20 years.
He is currently based at False Bay FET College where he runs the Centre of Science and Technology (COSAT), a school programme for township learners who show potential in maths and science.
For the past five years, COSAT has bucked the trend by achieving a 100% pass rate for its matric students, many of whom are currently students at UCT. When he enrolled for his DEd, Clark set out to examine the challenges and constraints confronting teachers working in under-resourced and over-crowded township schools.
One of his supervisors was Linder, now professor of physics education at Uppsala University in Sweden and also attached to UWC. This collaboration led to the international publication of Changing Teaching, Changing Times, a book focusing on the experiences of a science teacher in a South African township classroom.
Clark said: "We felt that in this country there was a lot written on a theoretical level about education, but very little about what you would call 'narratives of practice'. By that we mean the actual transactions between, say, teachers and their students in the classroom.
"We felt it was important to tell teachers' stories from their perspective, to inform and illuminate what is actually happening in South African education. I don't see how we can expect to bring about meaningful change, unless we really understand the challenges and constraints teachers are confronted with at the chalk face."
For his research, Clark focused on the experiences of an individual science teacher and her work in an over crowded and under-resourced township secondary school.
While set firmly in the present, the book is also a journey into the past and seeks to shed fresh light on how the legacy of apartheid education continues to have a major influence on teaching and learning today.
"Telling this story was not a soft response to research," Clark noted. "This book, in particular, is extensively referenced and we hope it will be of interest to a wide audience, including general readers, policy makers, teacher educators, researchers and, most importantly, practitioners in the field."
Associate Professor Duncan Fraser, co-ordinator of CREE , said: "Jonathan Clark's insights into the situation in township schools is very sobering, as well as his portrayal of the situation faced by township students entering tertiary studies at UCT. It seems that we still have a long way to go in overcoming the legacy of apartheid in this country."
Changing Teaching, Changing Times is published by Sense Publishers, Rotterdam, The Netherlands.
---
This work is licensed under a Creative Commons Attribution-NoDerivatives 4.0 International License.
Please view the republishing articles page for more information.
---