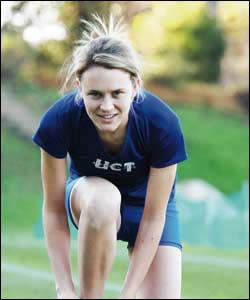 True-blue athlete: It took a while for Lauren Stewart to understand her own talent, but she's now one of the leading runners in the UCT Athletics Club.
Whenever coach James Evans reports on one or another of Lauren Stewart's achievements, he likes to recall how, in the 2003 Two Oceans Half Marathon, she shuffled home in a middling two hours and eleven minutes.
Ask him now and he'll tell you that 2003 was a long time ago. Since then, Stewart, now 24, has become a star of the UCT Athletics Club, alongside training partner Unice Vorster.
In 2004, the two helped a UCT team become the first since the early 1980s to beat Stellenbosch in the intervarsity road race. Last year, the women's team - Stewart and Vorster leading from the front pack - won the Two Oceans Half Marathon team event. They did the same at this year's Knysna Half Marathon. And the two are always among the leaders in local road and cross-country races, with either one or both clocking personal-best times in nearly every event.
They've made the UCT women's team a force to be reckoned with.
Their work has not gone unnoticed. Just recently, Stewart and 17-year old Robyn Williams were named for the Western Province squad to compete in the Nedbank South African 10km Championship. And a week ago, it was announced that Stewart, Vorster and Williams would be part of the WP cross country team for the senior women's 8km event at the SA Championships in Mpumalanga on September 9, while Williams will be in the under-17 6km team for the interprovincial on the selfsame weekend and venue.
What's changed for Stewart since that trundle at the 2003 Two Oceans? Well, back then neither she nor Evans thought of her as anything but a social runner.
"I just wanted to run and finish a half marathon," she says.
A few months later she turned a corner when she finished the Gun Run Half Marathon in one hour and forty minutes, shaving off more than half an hour from her Two Oceans time. She realised that with a little of the right training she was capable of better. And Evans wasn't slow to spot untapped talent. He put her on a top-of-the-crop regimen (and he pesters her to make sure she sticks to it) and let talent run its course.
"She trains really hard and consistently," says Evans. "Also, she is very strong mentally." (And she's a damn nice person to boot, he adds.)
Can she get better still, coach? "Yes, by far."
Stewart has now set her sights on bigger - longer - goals. In the Tuff Thirty in Brackenfell on July 13, only her third 30km event, she saw again that the longer she runs, the stronger she feels. She finished third in her best time over the distance.
Not surprisingly, she wants to work her way up to full marathons.
She's in it for the long haul.
---
This work is licensed under a Creative Commons Attribution-NoDerivatives 4.0 International License.
Please view the republishing articles page for more information.
---