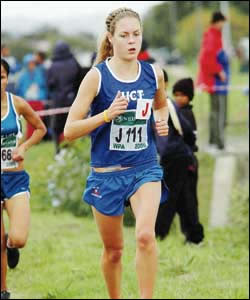 Fleet-footed: Lauren Stewart and Robyn Williams will represent WP in the upcoming national 10km championships.
Athletics:
Two UCT runners - Lauren Stewart and Robyn Williams - have been included in the 47-strong Western Province team that will take part in the Nedbank South African 10km Championships, scheduled for October 21 in Stellenbosch. (The squad is one of the biggest WP has fielded in recent years.) Stewart, by far UCT's leading runner this year and getting better with each race, will compete in the senior women's category. In turn, Williams, part of UCT's cross-country-winning under-19 team, has been named as a junior woman for the championship.
Women's Hockey: The women's first team appears to have hit a slump following the mid-year break. The side has lost three of its four games over the past two weeks: 0-7 to Stellenbosch, 0-1 to the Western Province Cricket Club (WPCC), and 1-3 to Victorians. The latter two defeats are particularly galling as UCT picked up wins against both sides in the first half of the season, including a bonus point against WPCC. A 3-1 win over Somerset West was "the only ray of sunshine" over the two weeks, says coach Charlie Stuart. But his team can still get their season back on track, he believes. "I have no doubt it will all click again." For now, it's all about getting back to basics and regaining their earlier winning form, he says.
Rugby: It must be frustrating the hell out of the coach and support staff - and the players as well, one can but imagine. After a 47-15 cruise over Helderberg on August 5, the FNB UCT first XV has again lost a match by just one point, making it their third such defeat this season. On this occasion, they were pipped 17-18 by NNK on August 12. "We should have won that game, but threw it away," says Spencer King, director of rugby. The defeat means the side drops to third place on the Super League standings, three points behind SK Walmers (but one game in hand) and 13 shy of Stellenbosch (with three matches in hand). The game plan for the rest of the season, says King, is just to keep winning and maybe pick up a bonus point or two. And that way keep snapping at the Maties' heels.
---
This work is licensed under a Creative Commons Attribution-NoDerivatives 4.0 International License.
Please view the republishing articles page for more information.
---