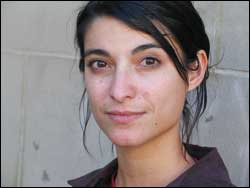 Ephemeral artist: Michaelis master's in fine art student Ruth Sacks has won the prestigious ABSA L'Atelier art award that will underwrite six months in Paris.
Michaelis master's in fine art student Ruth Sacks is patiently explaining that she works with a wealth of concepts and objects - text pieces, photographs, print outs - rather than producing static works destined for museums, collections or walls.
"Some artists are craft-based and need to make something with their hands. For me, the concept is important."
It was her concept for a Human Rights Day statement that won her the coveted 2006 ABSA L'Atelier award. Sacks hired a plane to write "Don't Panic" across the sky. On exhibition was the video footage capturing the event.
Her award includes a sojourn in Paris to study at the Cité Internationale des Arts, as well as airfare, a R20 000 cash prize and R60 000 to use in Paris.
She's delighted. Some of the best conceptual artists in the world are to be found in Paris.
There is a strong performance element in her work; things that are staged without there being a stage or actor. She cites the occasion she arranged for a couch to be tipped off a cliff in Hout Bay.
"The event itself is important."
After a year she will push it out to sea ("All biodegradable elements,' she adds) and erect a bronze plaque to mark the occasion.
In Turin she once glued slipslops to the ground in public spaces, the work intended to provoke comment on everyday life.
"The medium changes according to the idea I wish to communicate."
Sacks is also one of six artists invited by the Sunday Times to produce an artwork to celebrate prominent citizens. She is creating a monument to Cissy Gool at the Cape Town City Hall. Gool was the first coloured woman to graduate from UCT, with a master's degree in 1933. She then completed her LLB and was admitted to the Supreme Court as an advocate in 1962. A tireless campaigner against social injustice and racism, she was detained in terms of the State of Emergency at the age of 63 and held in solitary confinement. She died three years later.
There are two large-scale exhibitions Sacks is looking forward to participating in this year: one in Luanda and another in the Canary Islands, a site-specific work at an old laundry.
"Something like that," she smiles, concepts uncurling in her imagination.
She's also working on a book, I'll Stop Believing in You If You Stop Believing In Me, a catalogue of an exhibition that may or may not exist in real life. One contributor claims to be infiltrating Internet sex chat lines and documenting his experiences.
"We can't tell if he's doing it or not,' Sacks says.
---
This work is licensed under a Creative Commons Attribution-NoDerivatives 4.0 International License.
Please view the republishing articles page for more information.
---