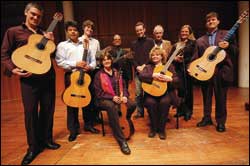 In memory: Performers at last week's guitar concert in memory of the Ganiefa "Neefa" van der Schyff, who died two weeks ago, were (standing) James Grace, Saudiq Khan, Jonathon Goldberg, Keith Tabisher, Derek Gripper, Uliano Marchio, violinist Titia Blake and Michael Hoole. Seated are Elspeth Jack and Avril Kinsey.
Former UCT lecturer Ganiefa "Neefa" van der Schyff died two weeks ago, found murdered in his home in Rondebosch East.
Van der Schyff, once described as one of the finest classical guitarists in the world, was the guitar teacher at UCT's South African College of Music (SACM) for some 26 years. He retired in 2004, but still taught at the college on occasion.
Last week, the SACM hosted a guitar concert in his memory. For the event, Van der Schyff's successor at the SACM, James Grace, brought together nine other performers, including students, colleagues and friends of Van der Schyff, as well as a former teacher, Uliano Marchio.
As part of the concert, staged in the Baxter Concert Hall, organisers played a recording of John Duarte's Homage to Lauro, performed by Francis Montocchio, one of Van der Schyff's former students. Montocchio recorded the piece on hearing of his teacher's death, and then had the CD couriered all the way from Vienna, where he is now based. (Montocchio had first heard Homage to Lauro in 1981, performed on the occasion by Van der Schyff.)
"This piece will always remind me of my wonderful teacher who was inspiring, musical, gentle, and a friend who, although I haven't seen him for a very long time, I will miss terribly," wrote Montocchio in a note, read out at the concert. "I am still playing and teaching the guitar because of Neefa."
Derek Gripper, another of Van der Schyff's students and later a colleague at the SACM, played the Bach Prelude E major, a piece he had performed for Van der Schyff the last time they had seen each other, he said.
"He was a phenomenal performer and was offered posts abroad, but he wanted to help his community and eventually became a teacher only," said Gripper in a Cape Times interview recently.
Van der Schyff completed a BMus at UCT, and also attended master classes in Italy under Oscar Ghiglia. On his return, he taught initially at the Hewat Training College in Athlone and later at UCT.
He lost the use of his left hand after he suffered a stroke in 1996, but continued to inspire countless students at UCT.
---
This work is licensed under a Creative Commons Attribution-NoDerivatives 4.0 International License.
Please view the republishing articles page for more information.
---