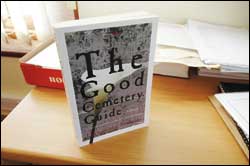 You don't need a crystal ball to tell that someone with a UCT connection will win this year's Sunday Times Fiction Prize. Every one of the five nominees, it turns out, has either lectured or graduated from here.
Two names should be all too familiar - Honorary Professor André P Brink was nominated for Praying Mantis, and Emeritus Professor JM Coetzee is in the running for Slow Man. But also listed are a trio of rising stars - Andrew Brown for Coldsleep Lullaby, and first-time novelists Russel Brownlee for Garden of the Plagues and Consuelo Roland for The Good Cemetery Guide. The three all happen to be UCT graduates; Brown did his law and English studies here while Brownlee and Roland are recent alumni of the MA in creative writing programme of the Centre for Creative Writing. (Brink still supervises students on the programme.)
"Some people may suspect a UCT conspiracy," jokes Professor Stephen Watson, director of creative writing. Better, though, says Watson, would be to credit the three young writers themselves - it's no mean feat to be nominated alongside big guns like Brink and Coetzee, after all. But hats should also be tipped in the direction of the Centre for Creative Writing - Brownlee and Roland's volumes are essentially their master's theses.
"This means, first of all, that UCT's Centre for Creative Writing has been consistently lucky in the calibre of student it attracts," says Watson, "and, second, that the supervisors of these students must be doing something right." Write on.
---
This work is licensed under a Creative Commons Attribution-NoDerivatives 4.0 International License.
Please view the republishing articles page for more information.
---