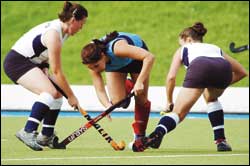 Close thing: Natalie le Brun (far left) and Tammy Kruger (far right) of UCT A combine to take the ball off the UCT B side's Juliet Spence in the recent derby. UCT A won 5-0.
The weekend of May 6-7 was another noteworthy one for most of the UCT teams competing in their respective winter leagues. Here's a quick round-up.
Hockey (Men)
Bad news first. Five games into the season, the men's first team recorded their first defeat, succumbing 1-3 to Pinelands on Saturday, May 6. That puts them a little off the pace at the moment, lying fourth on the log behind Pinelands, Stellenbosch and Western Province Cricket Club A. But the season still has some way to go. And UCT can take heart from the fact that in their recent title-clinching seasons, they usually turned things around in the second half of the year. Looking at the current league standing, it will more than likely be one of these four clubs that will hold aloft the Grand Challenge Trophy come the end of the season. And UCT should still fancy their chances. (With inter-provincials coming up, the men's Grand Challenge league takes a short break.)
Hockey (Women)
A 5-0 scoreline was hardly a fair reflection of the UCT derby on May 6. The B side had a point to prove on May 6, and they made the A team work for that bonus point every inch of the way. With a slender 1-0 lead at half-time, the game was still very much up for grabs, reports A-side captain Natalie le Brun. But the floodgates opened late in the game once UCT A netted a second. The win puts UCT on top of the women's Grand Challenge log, although Stellenbosch still has a game in hand. With two bonus points from two games - and a healthy goal difference - UCT, for now, remains on par with their main rivals. (Next game: on Saturday, May 20, the A side plays Victorians in Stellenbosch at 13h30, and UCT B plays Bellville in Bellville at 16h30.)
Netball
The women have enjoyed a comfortable start to their A1 season. They hardly broke a sweat as they thrashed Olympians A by 60-18 on May 6. But expect the competition to pick up over the coming weeks, says coach Louise Cameron. That means her side will have to take their game up a level or two as well. "I've got a lovely team," says Cameron. "But they can still do better." They may have to. (Games are played on Saturdays at the Bellville netball grounds.)
Rugby
There's not much bad you can say about the FNB UCT first team's 48-0 trouncing of Helderberg on a rainy May 6 late afternoon. After all, the students notched up seven tries and didn't concede a single point, their rivals' deadeye fly half notwithstanding. The game was won up front, believes Spencer King, director of rugby at UCT. That takes some doing as the Helderberg game plan is pretty much based on the bulk of their pack. "Our tight five really stood up well to them, and defended well around the rucks and mauls," says King. Club captain Andrew Martin agrees. "The conditions suited the heavier Helderberg pack," says Martin, "but the plucky students showed that size and accent don't necessarily mean you can scrum, ruck, and score." It's a form the students will hopefully have taken with them into the Intervarsity against Maties this past Friday. (Next games: versus Victorians on Wednesday, May 17, at 20h30, and against NNK on Saturday, May 20, at 1600, both at UCT.)
---
This work is licensed under a Creative Commons Attribution-NoDerivatives 4.0 International License.
Please view the republishing articles page for more information.
---